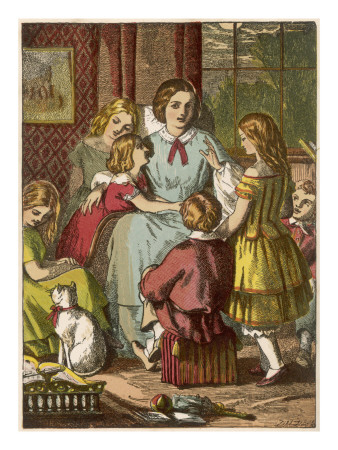 My dear friend and homeschooling mentor is the author of this very helpful piece which is meant to encourage the beginning homeschooler. Even though I've been homeschooling for nearly a decade now, I found this to be a good reminder as well. Even during the middle and highschool years, we may sometimes feel as though we are in a race…some kind of a competition…..against someone. It's sort of sad, especially when we create this unnecessary pressure ourselves. Thanks to my friend for allowing me to post this! ~Anne
I have recently had several conversations with newbie homeschool moms, who are struggling with a sense of being behind. While some of our children may be needing some extra work in an area, I like to ask the question… "Behind Whom?" You see, it is not a race in the sense of a competition. And the public schools certainly shouldn't set the standards for your homeschool. After all, they were designed to produce factory workers to fill the factories of the Industrial Age… not exactly a top priority on my homeschool goal list.
So, where does that sense of being behind come from? Probably from our own desire to do a good job, or our need to prove to our critics that we can teach our own children at home, or maybe from watching someone else's children excel at a subject or two. Now for those who are inspired and encouraged and successful at studying for National Latin Exams, or whose children are musical wizards… wonderful. You definitely help raise the image of homeschooling in the eyes of the public, and we appreciate and applaud all you are doing. But what about the rest of us?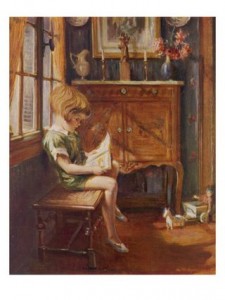 I would suggest that the rest of us slow down and give ourselves and our children permission to work at our own pace and keep everything in perspective. For instance, while you may, you don't have to agonize over your first grader being behind in grammar. You see, a noun is a noun, whether you are 6 or 16. You will have lots of time to teach grammar and parts of speech, and will have much more success if you wait until it is relevant to their skills ( like understanding writing a sentence). When we put extra pressure on ourselves and our students to get 11 subjects done all out of traditional textbooks and workbooks, it won't be long until the joy is gone or we feel like such failures that we begin to look at other options, thinking this homeschool thing isn't working out so well.
But the problem often lies in the model we are trying to recreate… the traditional classroom. Remember, the classroom is part of an institution, designed to control the masses. Our home is a place where nurturing, discipling, teaching and training can occur in a relaxed, productive environment. If we are trying to run a classroom, (like I was when I first began), it won't be long before family gets in the way. We begin to resent our little ones, who are interrupting the lessons, or the neighbor or elderly family member who needs to be accompanied to the doctor. But when homeschooling is a lifestyle, we can dump some blocks on the floor for baby, give our preschooler some paper and crayons at the coffee table, and pile on the couch to read living books about God's wonderful world, and learn our "science or history or geography". Or we can pack a few picture or chapter books, or maybe our penmanship, and head off to that doctor's appt., knowing that we are spending this day training our children to have a heart to serve others, and teaching them that there are days when we set aside our agendas to tend to the needs of others. This is real life learning and does have value. Maybe we will get that math lesson during nap time or in the afternoon, when we return from the doctor's office. Maybe not. We will pick up tomorrow where we left off. We will just do the next thing, as Elisabeth Elliot says. And when homeschooling is a lifestyle, we have lots of time ( although it will never feel like enough time!) So, remember that it is not a race, or competition.
And sometimes, little is more. The Three R's by Ruth Beechick is a worthy read, encouraging us to work on the basics: reading, writing, & 'rithmetic. Great advice, by the way, especially for those younger years. If you concentrate on the three r's, you will still have plenty to teach, but the stress will melt away for many moms. So get a good phonics program ( or read about how you can easily teach phonics without a "program" in Ruth's book above), and teach your little one to read, if they are ready. Abeka has a good phonics program… Letters and Sounds K, 1 & 2, but it moves quickly. If your child does not "take off" with this, using a program like Explode the Code is a much better choice, since it is more incremental. The end result will be the same… reading. But the journey will be much easier. Or Teach Your Child to Read in 100 Easy Lessons is almost a guarantee at quick reading success. You don't have to spend a lot of money, and you don't need a lot of bells and whistles. Little is More.
Find a handwriting program as well, to practice the forming of letters. They will do some writing in their phonics program, but I find they enjoy and benefit from a penmanship book. A Reason for Writing, or Getty-Dubay Italic writing are just a few common book series. Once they get to cursive, be mindful of whether or not the fancy loops are giving them trouble. For us, they were. We switched to italic, and we now have beautiful, simple, penmanship. Be flexible.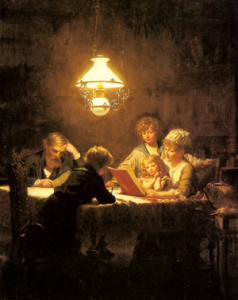 And then there is math. All math is not created equal. I have been surprised at the different paces that different math programs work at. Abeka is fast and introduces advanced concepts very early, starting in 2nd grade. The Kindergarten and First grade books cover the basics, but by the middle of grade 2, it steps up a lot. This worked fine for my older children. This was a disaster for my younger. I like to do what I know, and was reluctant to change, but I am so glad I did! Saxon moves a little more slowly, but is quite teacher intensive. If you can afford it, Teaching Textbooks is a great paced math program for grades 3 and up. Or look at manipulative based programs, like Math U See or Making Math Meaningful. And as kids advance, pull in resources like Times Tales on DVD and see some magic worked in learning those times tables!
The resources are out there, to fit your child, at his/her pace, for learning the academics. Don't panic in the early years (or anytime!) thinking you are behind. I think of that sweet, well meaning mom who is laboring at potty training her 18 month old baby. Why? She will spend 2 years with messes all over the house, wet beds during the night, tears (both hers and his), trying to force this development. Or…. she can determine to set aside some funds for Pull Ups, and revisit this in about a year, and it will most likely be quite painless. Timing is everything.
And a quick note about subjects beyond the three r's… look to living books (books that are not written for a particular reading level or skill level), and read about God's world. Read biographies or historical fiction to learn about history and and geography and people and how God has moved in the lives of man. Read books about all kinds of animals, the solar system, rocks, health, to learn about science. (Caution: watch for and reject library books with evolutionary content). As your children get older, biographies and living books are still wonderful, even as you begin to pull in more structured curriculum for these subjects.
Keep your eyes on the Lord, looking to Him, rather than the government schools for direction in your homeschooling. Read, read, read magazines and books that have been written to encourage and guide the Christian homeschooler ( see Great Resources tab above). Be confident in the Lord, that He has given you your children to teach, train and disciple, therefore He will equip you to complete this task. It may not look like what you think it should look like. But be content and do the next thing , step by step, working at your own pace along this journey, which is not a race. 🙂