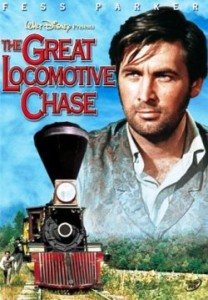 Based on a true story that took place during the civil war, a group of Yankee soldiers along with their leader (Fess Parker) a Yankee spy tries to steal a confederate locomotive in an attempt to disrupt the confederate supply lines and bring the war to an early end.
The Great Locomotive Chase or Andrews' Raid was a military raid that occurred April 12, 1862, in northern Georgia during the American Civil War. Volunteers from the Union Army commandeered a train and took it northwards towards Chattanooga, Tennessee, doing as much damage as possible to the vital Western & Atlantic Railroad (W&A) from Atlanta, Georgia to Chattanooga as they went, pursued by other locomotives. As they had cut the telegraph wires Confederate forces along their route had no advance notice of their arrival. The raiders were eventually captured, and some were executed as spies. Some of Andrews' Raiders became the first recipients of the Medal of Honor.
This is a great DVD for the kids as well as for the train enthusiast.  The DVD is filled with many vintage locomotives and rolling stock.  This DVD is available though amazon.com for a very reasonable price.  Check the amazon ad on the sidebar I've added it as one of our recommended videos.
I rate the Great Locomotive Chase
[xrr rating=9/10]
9 out of 10 Stars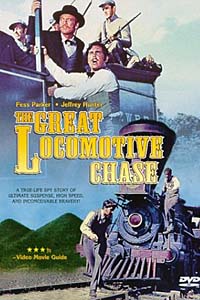 Sometimes found with this cover