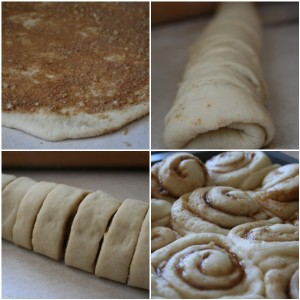 Do you remember Bisquick?  When I was a little girl my dear Mom used to make muffins, pancakes, apple cake, biscuits and all kinds of yummy treats with handy  Bisquick  Mix.  My nephew is becoming quite the baker and is experimenting with some of the Bisquick recipes.  Here's one he's trying today.
2 +1/2 cups Bisquick
2/3 c. Milk
2 tbsp sugar
2 Tbsp butter softened
1 Tbsp ground cinnamon + 2 Tbsp sugar
1/4 c. raisins if desired
Frosting
Heat oven to 375. Grease rectangular pan.  Stir Bisquick, milk and 2 Tbsp sugar until dough forms; beat 20 strokes.
Place dough on surface sprinkled with Bisquick; roll in Bisquick to coat.  Shape into ball, knead 10 times.  Roll or pat dough into 15×9 in. rectangle. Spread with butter.  Mix 2 Tbsp sugar and cinnamon sprinkle over dough.  Sprinkle raisins evenly.  Roll up tightly beginning at 15 in side.  Pinch edge of dough into roll to seal.  Cut into 12 1/1/4 in. slices.  Arrange with cut sides down in pan.
Bake 20-33 min until golden.  Coll. Spread with Frosting.
Frosting
1 1/2 c. powdered sugar
1/4 c. butter softened
2 tbsp milk
1 teas vanilla
Did you know that James Freedman, past President of Dartmouth College, told his  graduating seniors: "The purpose of a college education is to question your father's values."  Would you like to pass on your values to your children?  Please consider homeschooling them.  www.educatorsathome.com