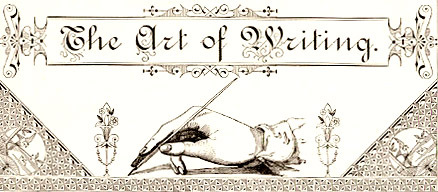 Years ago my husband and I were entrusted with an antique lap desk that my sister bought at an auction. While the desk was in our possession we discovered inside a stack of handwritten pre-civil war correspondence between a man and his girlfriend. Each evening when my husband returned from work we would read over these intriguing love letters written in very lovely delicate script. We were trying to figure out why this couple could not be together and why they did not simply get married. We discovered that the lady was caring for her parents and the gentleman worked for the railroads. It was such a treat for us to read about them and it felt as though we were time travelers getting a glimpse at life for two ordinary people so long ago.
I was disturbed when I heard that cursive writing had been dropped from the common core state standards in over 40 states here in America. Children in school today may not be able to enjoy reading some of the old original correspondence, documents, last will and testaments, sermons, etc. that were hand written in lovely penmanship.  Sadly, they will not know how to read our original founding documents like the Constitution and Declaration of Independence.  Although some folks think that handwriting is unnecessary, to me, it is quite perplexing to know that cursive writing is actually going extinct and future generations will not even be able to read our Constitution without it being translated for them. Folks will not be able to read an old fashioned handwritten letter or a letter from an ancestor. They will not be able to study genealogy or read many of the original historical documents that are preserved in museums and archives. Perhaps they will not be able to correspond with pen and paper at all…maybe they will not even know how to sign their name!!
I've  had a dear  pen-pal for over 15 years now. We've never met but we have enjoyed corresponding with each other the old fashioned way. To receive a handwritten letter or card is a pleasure to me. Sometimes I'll make a cup of tea and enjoy the whole process of opening a pretty card and reading about her life in the country. My boys have recently begun to correspond with pen-friends as well. What a joy it is for them to receive a letter from a friend….handwritten…so very personal and down-to-earth. I hope that folks will continue to appreciate and love cursive writing and will not believe that the pen and paper are unimportant or out-dated.  I delight in reading handwritten letters or even lists.  To me each persons handwriting is unique and somehow revealing. I enjoy and appreciate the many different styles… neat or sloppy….handwriting is personal and individual.
I enjoy emailing my friends and family…it is quick, easy and convenient but  sometimes feels a bit cold and emotionless. It requires little time or commitment.    Maybe I'm old-fashioned but the thought of handwriting becoming extinct makes me so sad. Perhaps the homeschool community can keep this dying art alive for future generations.
Many Blessings,  Anne