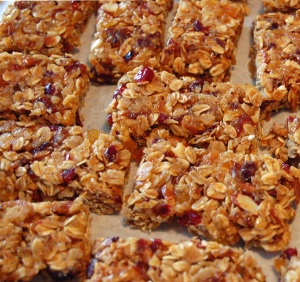 I found this recipe in Taste of Home magazine.  These bars look delicious and are packed full of  wholesome and healthy ingredients.  I'm going to make some up soon.
5 1/2 c. quick-cooking oats
1 c. chopped almonds
1 egg beaten
2/3 c. melted butter
1/2 c. honey
1 tsp. vanilla extract
1/2 c. sunflower kernels
1/2 c. flaked coconut
1/2 c. chopped dried apples
1/2 c. dried cranberries
1/2 c. packed brown sugar
1/2 tsp. ground cinnamon
Combine oats and almonds in a greased baking pan and bake for 15 minutes at 350.  Combine egg, butter, honey and vanilla.  Stir in sunflower seeds, coconut, apples, cranberries, brown sugar and cinnamon.  Stir in oat mixture.  Press into a 15×10 in. baking pan coated with cooking spray or butter.  Bake at 350 for 15-18 min. until edges are lightly browned.  Cool on a wire rack.  Cut into bars.  Store in airtight container.  Makes 3 dozen.  130 calories, 2 gms fiber, 16 carbs, 2 gms protein.
Sally Haen -Wisconsin