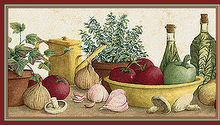 My dear children are big soup eaters. From the time they could manage a spoon,  I gave them soup often…..usually several times a week.  Now whenever I have a pot of bubbling soup on the stove they are delighted and look forward to a savory bowl of hot soup for lunch.
It seems there is nothing more comforting, more stress relieving and more satisfying than soup.  Also, we are sure to get plenty of vegetables in our diet when we include soup routinely in our menu.  Whether I make a creamy chowder, a chicken noodle, or a hearty bean soup we all enjoy and usually go back for seconds.
When I prepare soup I rarely use a recipe.  If I do use one it is only a guideline to be modified and "tweaked" to suit our palates.  We like our soups flavorful and hearty so we often add more vegetables, more garlic, more cumin, more celery, more "whatever" than the recipe calls for.  I mean why bother adding 1 clove of garlic? I don't get it. I usually decide what soup to prepare based upon what I see when I open my refrigerator and cupboards. What do I have on hand? What leftovers? What vegetables? What legumes? I always keep a supply of good chicken broth or at least a flavorful bullion in the pantry at all times, so making a pot of soup is so very simple. It reminds me of the children' s story of "stone soup" minus the stone of course. A delicious and satisfying soup is simply a matter of combining the ingredients you have on hand with a good broth. It's experimental , but I don't think I've ever prepared a bad soup. They've all been good, just some have been "yummier" than others. Secondly, I think about what we are in the mood for. If I have leftover rice in the refrigerator, I'll consider chicken with rice or maybe a Mexican rice and meatball soup. Perhaps a creamy wild rice soup would be a good choice. If I have any ham left over I'd almost always make a split pea soup or navy bean. If I am craving a hearty chowder, I'll combine potatoes, corn, onion, and peppers, and make up some cornbread on the side. If I feel like Mexican I'll combine chicken, celery, black beans, corn, plenty of garlic and cumin and serve this with warmed tortillas. You can even garnish this with some cilantro, cheddar cheese and fresh onion. YUM! If you ever have any left over tortellini's  or pasta you can make a delicious minestrone type soup by adding some beans and canned tomatoes with your chicken broth. Garnish this with some good parmesan cheese. The possibilities are endless and never boring.
When I make soup our home smells delicious, our tummy's are full and we are warmed and comforted. I don't think we'd get all of this from peanut butter and jelly sandwiches or chicken nuggets. Making a pot of soup is a blessing for you and your family. I hope you'll make some today. Here are some ideas to try. For cream of Broccoli soup combine frozen chopped broccoli with chopped onion, chicken broth, and milk…thicken with flour. You can even add a can of cheese soup to make it a broccoli cheese.  Don't let this boil once you've added the milk. Experiment and taste. For vegetable soup I add carrots, celery, onion, any other vegetables I have on hand with chicken broth. If I have any rice or pasta I'll add these. You can even make a creamier soup by adding milk and thickening with flour or instant potatoes. Easy and good. For split pea soup Ill chop up leftover ham or even bacon and fry with garlic, onion, I'll add chopped up carrots. and celery. Then chicken broth and about 2 cups of split peas…an inch of water over the peas too. Bring to a boil and then simmer for about an hour. Season to taste. Enjoy!