Savory Chicken
4 skinless, boneless chicken breast halves
ground black pepper to taste
4 slices Swiss cheese
1 (10.75 ounce) can condensed cream of chicken soup
1/4 cup milk
1 cup dry bread crumbs
3 tablespoons butter, melted
DIRECTIONS
1. Preheat oven to 350 degrees F (175 degrees C).
2. Place chicken breasts in a 9×13 inch baking dish. Season with ground black pepper to taste. Top each breast with a slice of cheese.
3. Mix together the soup and milk and pour mixture over chicken. Sprinkle bread crumbs on top and drizzle with melted butter/margarine.
4. Bake covered in the preheated oven for 30 minutes. Uncover and bake for another 20 minutes or until golden brown.
Tuesday
HEARTY BEEF CHILI
1 29-ounce can tomatoes, cut up
1 10 ounce can chopped tomatoes and green chili peppers
2 c. vegetable juice or tomato juice
1-2 tbsp. chili powder
1 tsp. ground cumin
1 tsp. dried oregano, crushed
3 cloves garlic, minced
1 1/2 lbs. beef or pork stew meat, cut into 1″ cubes
2 c. chopped onion
1 1/2 c. chopped celery
1 c. chopped green pepper
2 15-ounce cans black, kidney, and/or garbanzo beans, drained and rinsed
Toppers such as shredded Mexican cheese or cheddar cheese, dairy sour cream, thinly sliced green onion, snipped cilantro, thinly sliced jalapeno peppers, and/or sliced pitted ripe olives (optional)
In a 6 quart crockery cooker combine both cans of undrained tomatoes, vegetables or tomato juice, chili powder, cumin, oregano, and garlic. Stir in the meat, onion, celery, and sweet pepper.
Cover; cook on low-heat setting for 8 to 10 hours or on high heat setting for 4 to 5 hours. If using low heat setting, turn to high heat setting. Stir in the beans; cook 15 minutes more. Spoon into bowls. If desired, serve with toppers.
Wednesday
CORN CHOWDER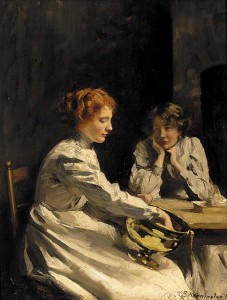 6 slices bacon, diced
1/2 c. finely chopped onion
2 c. diced raw potatoes
1 1/2 c. water
2 tsp. salt
1/8 tsp. pepper
2 c. cream style corn
2 tbsp. butter melted
2 tbsp. flour
3 c. milk
Parsley, shredded cheese, corn chips
Fry bacon until crisp. Remove bacon. Saute onion in 2 tablespoons bacon drippings until transparent, not brown. Cook potatoes in the water with salt, sauted onion and bacon in covered pan until tender. Add pepper and corn. Blend butter and flour, stir in milk and cook until slightly thickened. Add to corn mixture: sprinkle parsley, shredded cheese or chips over the top. Serve immediately and piping hot. Makes 6 servings.  Delicious with a crusty roll or corn bread.
Thursday
BEEF & VEGETABLE STIR FRY
1 beef bouillon cube
1/4 cup hot water
3 tablespoons reduced-sodium soy sauce
2 tablespoons dry white wine or water
1 tablespoon cornstarch
1/4 to 1/2 teaspoon ground or freshly grated ginger
1/4 teaspoon ground black pepper
1/4 tablespoon olive oil
1 pound lean beef sirloin steak, cut into 2-inch strips
2 cloves garlic, finely chopped2 tablespoons water1 package (16 oz.) frozen mixed vegetables or freshly sliced celery, zucchini, pepper, broccoli etc.
1/2 cup (about 3) 1-inch slices green onions
4 cups cooked brown rice
Dissolve bouillon in 1/4 cup water in a small bowl. Stir in soy sauce, wine, cornstarch, ginger, and pepper.
Heat  oil in a large, nonstick skillet over medium-high heat. Add beef and garlic; cook, stirring constantly, for 3 to 4 minutes or until beef is no longer pink. Remove from skillet.
Heat 2 tablespoons water in same skillet. Add vegetables; cook, stirring occasionally, for 3 to 5 minutes or until vegetables are tender. Return beef to skillet; stir in bouillon mixture and green onions. Cook, stirring frequently, for 2 to 3 minutes or until sauce is thickened. Serve over rice.
Friday
ANGEL HAIR PASTA WITH LEMON CHICKEN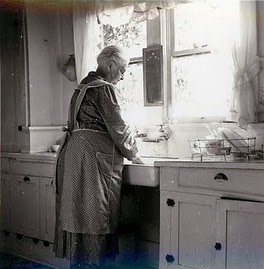 1 pkg. (9 oz.) refrigerated Angel Hair Pasta (or dried will work too)
1-1/2 cups cooked diced chicken
1/3 cup butter, melted
2 tablespoons lemon juice
2 tablespoons chopped fresh parsley, (or 1 teaspoon dried parsley)
1/4 teaspoon marjoram
1/4 teaspoon garlic powder
Prepare pasta according to package directions.
Toss pasta with remaining ingredients. Season with salt and ground black pepper.
The fresh flavor burst of lemon perfectly accents the chicken and angel hair pasta in this quick and easy dish. Serve with a generous topping of Parmesan cheese and a tossed salad.
Saturday
CHEESEBURGER PIZZA
1 can refrigerated pizza crust
1/2 lb. ground beef
Onion
1 cup spaghetti sauce
1 cup shredded cheddar cheese
Heat oven to 425. Grease 12 inch pizza pan
Unroll dough, place in greased pan; press out dough from center to sides.
Bake 7-9 minutes or until light golden brown.
Brown ground beef and onion, drain any grease. Spread sauce over partially baked crust. Top with ground beef and cheese.
Return to the oven; bake an additional 12-18 minutes or until bubbly.
Sunday
Chicken In Crock Pot
1 broiler cut up or chicken breasts
1 can (10 oz.) cream of chicken soup
1 can cream of mushroom soup
1 can mushroom stems
1 bell pepper, sliced
1 onion, sliced
Dash salt, pepper & garlic powder
1/2 c. white wine
Wash and dry chicken pieces. Place in crock pot. Mix remaining ingredients and pour over chicken. Cook on low for 6-7 hours or on high for 3-4 hours. Serve with noodles or rice.
If you do not have any creamed soups on hand you man make your own using the following ingredients:
1 tablespoon butter
3 tablespoons all-purpose flour
1/2 cup low sodium chicken broth
1/2 cup low-fat or fat free milk
salt and pepper to taste