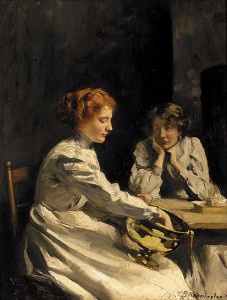 Hello Everyone. I came across this poem and I wanted to share it. Although it is so simple it touched my heart deeply.
DEFINITION
"MOTHER"—A WORD THAT HOLDS THE TENDER SPELL
OF THE DEAR ESSENTIAL THINGS OF EARTH;
A HOME, CLEAN SUNLIT ROOMS,
AND THE GOOD SMELL
OF BREAD, A TABLE SPREAD, A GLOWING HEARTH,
AND LOVE BEYOND THE DREAM OF ANYONE…
I SEARCH FOR WORDS FOR HER….
AND THERE ARE NONE.
GRACE NOIL CROWELL
I really miss my dear Mom. This poem brings me back to the days when I'd arrive home from school tired and hungry. My mom usually had something just out of the oven. It was not fancy. Usually just muffins or a quick bread or cake. She used to make an apple cake that was really good…..almost like a coffee cake with apple slices on top. Let's keep on making delicious treats for our families so they will have some happy memories too.
APPLE CAKE WITH HOT CARAMEL SAUCE
1/2 CUP SHELLED PECANS
2 LARGE COOKING APPLES
1 CUP SUGAR
1 EGG
1 TEAS. BAKING SODA
1/4 TEAS. SALT
1 TEAS CINNAMON
1 TEAS NUTMEG
1 CUP FLOUR
WHIPPED CREAM
FRESH APPLE SLICES
CARAMEL SAUCE:
1/2 CUP BUTTER
1/2 CUP BROWN SUGAR
1/2 TEAS SALT
1 TEAS VANILLA
1/2 CUP EVAPORATED MILK
PREHEAT OVEN TO 350. CHOP PECANS AND SET ASIDE. CHOP APPLES TO EQUAL 2 1/2 CUPS. CREAM BUTTER, ADD SUGAR AND BEAT TIL FLUFFY. ADD EGG AND BEAT TIL BLENDED. ADD BAKING SODA, SALT, CINNAMON AND NUTMEG. ADD THE FLOUR AND STIR JUST UNTIL BLENDED. STIR IN APPLES AND NUTS. POUR INTO AN OILED 9 INCH ROUND CAKE PAN AND BAKE FOR 30 MINUTES .
PREPARE SAUCE. MELT BUTTER, BROWN SUGAR AND SALT. BRING TO A BOIL AND WWHISK IN VANILLA AND MILK. (THIS SAUCE COULD BE PREPARED AHEAD OF TIME AND THEN REHEATED OVER HOT WATER) TO SERVE, LADLE 2-3 TBSP HOT SAUCE ONTO 8 SERVING PLATES. CUT CAKE IN 8 WEDGES AND PLACE ON TOP OF SAUCE. GARNISH WITH A DOLLOP OF WHIPPED CREAM AND 2 THINLY SLICED APPLE WEDGES, PEEL LEFT ON. CAKE SHOULD BE SERVED WARM.
PLEASE LET ME KNOW IF YOU LIKED THIS RECIPE. I GOT IT OUT OF A GREAT COOKBOOK CALLED "COOKING FROM QUILT COUNTRY" THIS BOOK HAS A COLLECTION OF AMISH AND MENNONITE RECIPES AS WELL AS LOVELY PICTURES OF AMISH COUNTRY LIFE.
~Anne~