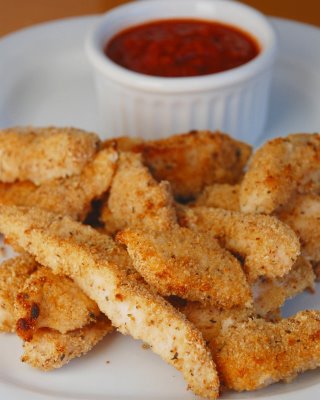 Several years ago I hosted a potluck baby shower and one of the Mother's brought yummy chicken nuggets in a pretty napkin  lined basket.  She also had a dipping sauce with them. They were a healthy and delicious treat and we all enjoyed them.
BAKED CHICKEN NUGGETS
1/2 Cup fine, dry Breadcrumbs
1/4 cup grated parmesan cheese
1/2 Teas. dried basil, thyme
1/4 Teas sea salt
4 Skinned and boned chicken breast halves, cut into 1 inch pieces.
1 cup melted butter
Combine first 5 ingredients in a heavy zip lock bag. Seal and shake. Dip chicken in butter and shake a few pieces at a time into breadcrumb mixture. Place chicken on a greased baking sheet. Bake at 400 for 20 minutes or until browned. Serves about 4.
Honey-Mustard Dipping Sauce
1 cup honey
1/2 cup Dijon mustard
Combine the honey and mustard. This sauce is best when prepared a day or two ahead of time. It may be served at room temperature. Makes 1 1/2 cups.
Sweet and Sour Sauce
1/2 cup ketchup
1/2 cup white vinegar
1/2 cup sugar
Combine all ingredients and heat until hot and the sugar has dissolved. Serve warm or at room temperature. This sauce may be prepared a few days in advance and warmed before serving. Makes 1 1/2 cups.