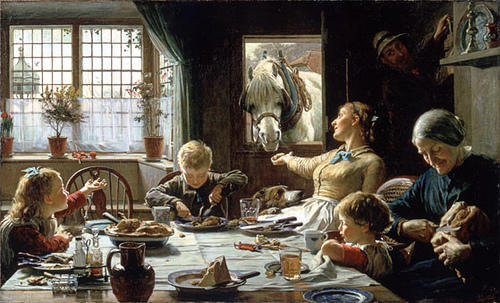 Certain dishes just bring a flood of memories.  I recently made a big pot of chicken and dumplings for my sister and her family when they stopped by on their way back from a family road trip.  When my sister saw the bubbling stew in my green dutch oven pot she remembered our Mom.  Even her husband in his thick Bostonian accent commented that his mom used to make this dish as well and it seemed like such classic New England fare. Whenever I prepare corned beef and cabbage, I'm twelve again for a few minutes at least,  and my Mom's in the kitchen cooking for our family.   Even a simple peanut butter and Marshmellow fluff sandwich on white bread brings me back to my childhood days. My mom used to make this sandwich for my siblings and I, and I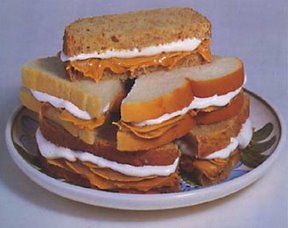 assumed that she invented it herself.  Turns out this is a New England Classic as well.  This sandwich is called a flutternutter and generations of New Englanders fondly associate Marshmallow Fluff with their childhood. The flutternutter sandwich  is a local tradition almost as popular as a nice hot bowl of clam chowder (chowdah).  I always wondered why my husband (who has southern roots) had never had this sandwich.  I guess when my family headed west they brought  a bit of New England with them!
Sometimes I wonder if my children will have certain meals that they will remember and talk about when they are in their own homes with their children.  I wonder if they will keep some of the traditions and recipes from our family.  I hope they do.
Mom's Easy Chicken & Dumplings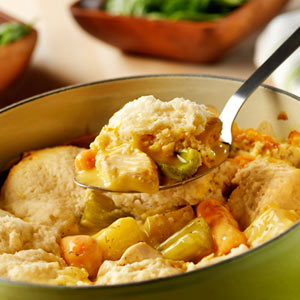 Chop up an onion and begin frying in a dutch oven pot.
Add left over chicken meat, chopped celery, and chopped carrots.
Add 3 cups chicken broth/stock or water. (If you use water add a few teaspoons of a nice bouillion)  Add cubed potatoes…or use left over baked potatoes.
Let all of this simmer for 45 min or so…until the potatoes and carrots are tender.
For the dumplings you can use the recipe on the back of a Bisquick box….or you can buy a tube of biscuits.
If you use the tube just slice each biscuit into fourths.  Drop the biscuit pieces into the simmering broth and cover.
If you use the Bisquick dumpling recipe….just use a tablespoon to drop carefully onto the simmering broth.(Mix Bisquick and milk until soft dough forms. 2c. mix, 2/3 c. milk)  Drop dough by spoonfuls onto stew.
Cover for about 20 minutes until the dumplings are plump and firm. Spoon out hearty helpings with a ladle or big spoon. Season to taste.  Enjoy!