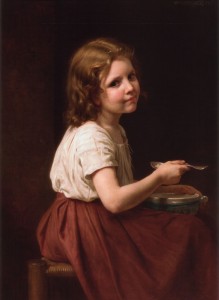 Corn Chowder
2 slices bacon or 2 Tbsp butter
1/2 c. sliced onion
3 cups diced raw potato
2 c. water
2 c. fresh or canned or frozen corn
4 c. hot milk
1 tsp salt and pepper
Saute onion in butter or pork.  Add ingred except milk in large pot.  Cook until potatoes are tender.  Add milk last. (You can thicken with a flour paste or instant potatoes if needed)
Clam Chowder
Cook…. 2 c. chopped clams (fresh or canned)
3 c. cubed potato
3 c. chicken stock or broth, 1/2 c. onion, salt & Pepper
When done, add 2 tsp flour mixed with 2 tbsp butter (in paste) and 4 c. mild.  Simmer 10 min. Serve hot.
Bacon and Bean Soup ("Poor Man's Porridge")
Soak 2 cups dried beans overnight and cook until tender. (or use canned beans)  Fry 4 slices of bacon until crisp.  Drain.  In large pot mix cooked beans with
1 c. diced onions
1 c. diced celery
1 tsp dried parsley, savory
1 clove garlic
2 tbsp bacon fat
1 tsp. red pepper, salt
Add 4 cups water.
Simmer for 1 hour.  Crumble crisp bacon on top.  Serve hot.  (Add more water during cooking if needed)
Carolina Beef Stew
Brown 1 lb. boneless beef cubes in 2 tbsp fat
Add. 1 Chopped onion
2 tbsp ketchup
2 c. beef bouillon
1 c. tomotoes
1 tsp salt, pepper
Simmer until meat is tender, about 1 1/2 hours.  Add: 2 c. diced raw potatoes
2. c. carrots sliced
6 small onions (whole)
water to barely cover.
Cover and simmer until vegetables are cooked.  (about 1/1/2 hours)
BROCCOLI SOUP
8 strips bacon
1/4 c. flour
4 c. milk
20 oz. pkg. frozen mixed vegetables
10 oz. pkg. frozen broccoli, chopped
fine
Onion (chopped)
Garlic (optional)
Boil frozen mixed vegetables and broccoli (chopped fine). Set aside to drain. Fry bacon until crispy. Set aside bacon. Pour enough bacon grease in soup pan to cover bottom of pan. Simmer onions until clear. Mix 1/4 cup flour. Then add 4 cups milk. Stir well. Add vegetables and bacon. Simmer until soup is thickened. Salt and pepper to taste. This soup has better flavor when eaten the next day.
CREAMY TOMATO SOUP
2 tbsp. butter
1 lg. onion, peeled and thinly sliced
1 carrot, chopped
2 garlic cloves, coarsely chopped
1 (28 oz.) can peeled Italian plum
tomatoes
3 c. chicken broth
1 sm. boiling potato, peeled and
thinly sliced
2 tbsp. chopped fresh basil leaves or
2 tsp. dried basil
1/4 tsp. nutmeg
Salt to taste
1 c. milk
Melt butter in a soup pot over low heat. Add onion, carrot and garlic. Cook, covered for 20 minutes, stirring occasionally, until vegetables are tender and wilted. Crush tomatoes in their liquid and add to the pot along with the chicken broth, potato, basil, nutmeg and salt. Cook, covered, over low heat for 40 minutes, stirring occasionally. Let cool to room temperature. Puree in a blender, in small batches, adding a bit of milk to each batch. Return to soup pot and adjust seasonings. Before serving, warm through over very low heat. Do not boil. Serves 6.
MOM'S GERMAN BORSCHT SOUP
3 1/2 qt. water
1 lb. soup meat and bone
2 bay leaves
1 lg. onion, sliced
3 lg. carrots, diced
2 tsp. salt
1 c. celery and some leaves
1 sm. heat cabbage shredded
1/4 c. rice
2 lg. potatoes, sliced
1 c. cream
Boil soup meat and bone for 2 hours onion and bay leaves add vegetables and tomatoes. Simmer about 1 hour. Add cream when you are ready to eat. May add 1/4 cup barley if desired.
Chicken Tortilla Soup
1/2 c Onion; Finely Chopped, 1 Med
1 ea Clove Garlic; Finely Chopped
2 T Vegetable Oil
4 c Chicken Broth
1/4 c Red Bell Pepper; Chopped
1 T Red Chiles; Ground
3/4 t Basil Leaves; Dried
1/2 t Salt
1/4 t Pepper
15 oz Tomato Puree; 1 can
1/2 c Vegetable Oil
10 ea 6″-dia Corn Tortillas; *
2 c Chicken Breasts; Cooked, **
———————————GARNISHES———————————
1 x Avocado Slices
1 x Cheese; ***
Corn Tortillas should be cut into 1/2-inch strips.
Cooked Chicken breasts should be cut up or shredded.
Use Monterey Jack or Chihuahua Cheese in this recipe.
————————————————————————–
Cook and stir onions and garlic in 2 T oil in 4-quart Dutch oven until
onion is tender. Stir in broth, bell pepper, ground red chiles, basil,
salt and pepper, and tomato puree. Heat to boiling; reduce heat. Simmer
uncovered for 30 minutes. Heat 1/2 cup oil in 10-inch skillet until hot.
Cook tortilla strips in oil until light golden brown, 30 to 60 seconds;
drain. Divide tortilla strips and chicken among 6 bowls; pour broth over
chicken. Top with cheese and avocado slices.
BEEF BARLEY SOUP
1 pound stew beef
2 cup carrots, sliced thin
1 cup celery, thin sliced
3/4 cup chopped green pepper
1 cup chopped onion
1/2 cup barley
1/4 chopped parsley
3 beef bouillon cubes or equivalent beef base
2 tsp. salt
3/4 tsp. dried basil
2 tbsp. catsup
Layer in crock pot: Vegetables and meat then barley and remaining ingredients.
Cover with 5 cups water. Do not stir. Cook on low for 9 to 11 hours. Serves 4 to 6
Butternut Squash Soup
2 medium butternut squash (about 3 lbs)
4 cups chicken broth
4 cups whipping cream
1/2 cup firmly packed brown sugar
1 teas. cinnamon
1/4 teas. nutmeg
Salt & Pepper to taste
Sour cream to garnish
Preheat oven to 350.  Cut squash in half lengthwise remove and discard seeds.  Place squash halves, cut side down in jellyroll pans.  Bake uncovered one hour.  Let cool to touch. Scrape out pulp and process in a food processor 2 minutes til smooth.  In large dutch oven combine 4 cups pureed squash, chicken broth, and next 6 ingredients.  Cook over low heat until thoroughly heated.  Serves about 11 cups of soup.