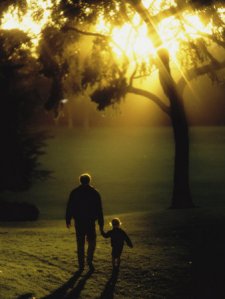 When my husband returns home after a long day of work and  fighting the freeway traffic, we shower him with welcome home hugs and kisses. Even our little Maltese dog chimes in with joy to see her master. This poem by Edgar Guest I dedicate to my loving husband and  all the dear and devoted dads on this Fathers Day.
When day is done and the night slips down,
And I've turned my back on the busy town,
And come once more to the welcome gate
Where the roses nod and the children wait,
I tell myself as I see them smile
That life is good and its tasks worth while.
When day is done and I've come once more
To my quiet street and the friendly door,
Where the Mother reigns and the children play
And the kettle sings in the old-time way,
I throw my coat on a near-by chair
And say farewell to my pack of care.
When day is done, all the hurt and strife
And the selfishness and the greed of life,
Are left behind in the busy town;
I've ceased to worry about renown
Or gold or fame, and I'm just a dad,
Content to be with his girl and lad.
Whatever the day has brought of care,
Here love and laughter are mine to share,
Here I can claim what the rich desire–
Rest and peace by a ruddy fire,
The welcome words which the loved ones speak
And the soft caress of a baby's cheek.
When day is done and I reach my gate,
I come to a realm where there is no hate,
For here, whatever my worth may be,
Are those who cling to their faith in me;
And with love on guard at my humble door,
I have all that the world has struggled for.
~By Edgar Guest