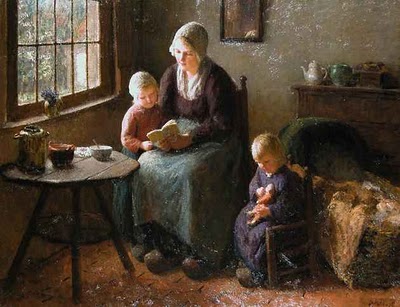 Of all the homeschool activities that we include in our day,  read aloud time trumps them all!! What a delight it is to cuddle up with my sweet boys and read together.  I do not believe  that  we would have the time for this activity if  they were enrolled in  school.  Oh how much we'd miss!!   I feel so blessed and fortunate that we have had  many years of reading together.
Since my children  were little guys we've curled up with books  and thoroughly enjoyed entering the world of the wonderful characters in our stories. Although there are many benefits to reading aloud such as vocabulary building, comprehension practice , narration practice, etc.  to me the most wonderful benefit would have to be  the family discussions.  We talk about the characters, the lessons learned, the close calls, the spiritual meanings, the good guys, the bad guys, the men and women of character and the shallow wimpy ones too.
When my boys  were pre-school age  we would lie down to read and then drift off  to sleep.  As a tired mommy of pre-schoolers , this was my favorite time of the day.  We'd have a nice lunch, pick out a wonderful book like Charlotte's Web or The Trumpet of the swan and read on our big king size bed.  My boys would drift off to sleep and I would as well.  Then, after about 20 minutes,  I'd very carefully get up….not making a sound…. and sneak into the family room.  This was my time to plan dinner and tidy up the house a bit.  Sometimes I'd light a candle and put on some soft music and begin cooking.  Those days were so simple….so sweet…..but often exhausting as well.  Reading books together and then napping gave us refreshment and strength to carry us through dinner hour, baths, and other evening activities.
Now that my boys are growing up,  we can tackle even more thoughtful and exciting books.  We can read books that encourage lot's of discussions. Because of this our reading time is still a priority and a delight.  Usually after our morning routine and our math is completed and our typing and piano practice is done, we will get cozy on the couch.  Our Maltese dog "Betty" knows the routine and she'll hop up onto the couch as well.  I tell folks that she is homeschooled too!  I usually do the reading but sometimes we will take turns. If I am careful about choosing character building books….this time of reading together becomes a mentoring and discipleship lesson as well as a reading lesson.  We rarely just read through a book but instead talk about the meaning and morals of each story.  We discuss the characters and decide if he or she is a believer and if he has a Christian worldview or not.
Have you had a chance to read The Chosen by Chaim Potok  yet?  This story about two Orthodox Jewish boys who become friends was so inspiring to me.  Both boys, had very devoted and somewhat strict fathers who were Rabbis,  were very scholarly…. and avid readers.  Their Fathers mentored them in the old fashioned way…..through reading and discussion.  In our own modern way we homeschool parents are doing the same when we read with our children.
Do you have any books that after you've read them you grew closer to the Savior?  Do you have any that you could recommend to us ?  Please share your favorites as we are trying to compile a list of these very worthy books.  May the Lord Bless you as you love and serve your family. ~Anne
Some of our favorite family read- alouds include:
1.  Teddy's Button
2. Farmer Boy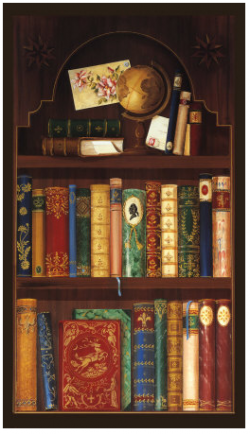 3. Old Yellar
4. Johnny Tremain
5. Joel, Boy of Gallalee
6. Titus, Comrad of the Cross
7. Treasures of the Snow
8. Hinds Feet on High Places (For Children)
9. Little Britches
10. Clean Your Boots Sir?
11.Charlotte's Web
12.The Kingdom Series (By Chuck Black)
13.Little Pilgrims Progress
14.Trailblazer Books (Historical Fiction by Dave & Neta Jackson)
15.Silver For George Washington (Enid Lamonte Meadowcroft)
16.The Story of Crazy Horse (Meadowcroft)
17.Little Britches (Moody)
18.Spring with the Moodys, Summer with the Moodys (Sarah Maxwell)
19.The White Dove (Lamplighter)
20.The Basket of Flowers (Lamplighter)