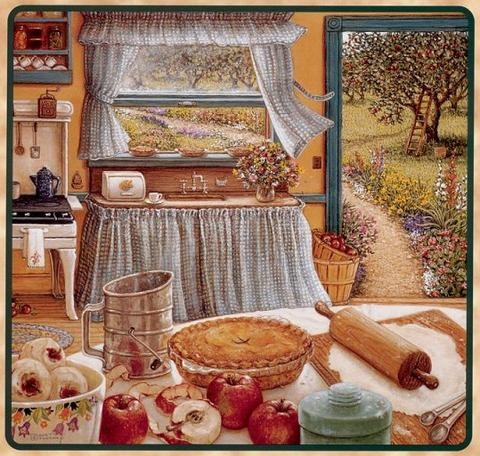 I hope you will enjoy the following recipes that can be prepared and given as gifts this holiday.
GOURMET HOT CHOCOLATE MIX
11 cups powdered dry milk
1 cup powdered sugar
11 ounces powdered non-dairy creamer
2 pounds instant chocolate drink mix
4 heaping tablespoons unsweetened cocoa
1 small box of instant chocolate pudding mix
Mix and store in an airtight container. Use 3 heaping tablespoons per 6-8 ounces of boiling water.
CIDER SPICE BUNDLE
6 whole cloves
6 whole allspice berries
1 tsp dried orange rind
1 cinnamon stick, crushed
Cut two 4-inch squares of cheesecloth, place 1 on top of each other. Place cloves, allspice berries, orange rind and cinnamon on top, pull up corners and tie into bundle with string. Place in jar or mug. Makes 1 bundle, enough for 2 cups cider or apple juice.
To make: Pour 2 cups cider or apple juice in saucepan or microwaveable container. Place Cider Spice Bundle in cider. Heat just until boiling. Serve hot.
CAPPUCCINO MOCHA MIX
6 tablespoons plus 2 teaspoons instant espresso coffee powder
3 tablespoons plus 1 teaspoon unsweetened cocoa
1-1/4 cups powdered nondairy creamer, plain or Irish cream
1/2 cup plus 2 tablespoons granulated sugar
2 teaspoons ground cinnamon
In a medium bowl, stir together espresso coffee powder, cocoa, nondairy creamer, sugar and cinnamon. Store tightly covered.
For the gift label:
"For each cup of cappuccino, measure 4 tablespoons mix into a coffee mug and stir in 6 oz. of boiling water." Makes 2 1/2 cups of mix (enough to make 10 servings).
ZUCCHINI BREAD BAKED IN A JAR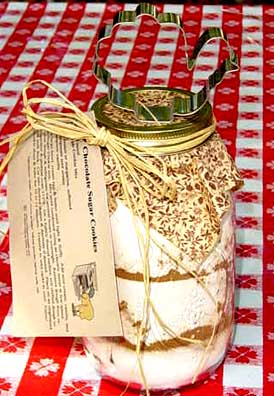 2 cups sugar
1 cup oil
3 eggs
2/3 cup water
1 tsp. vanilla
3 1/4 cups flour
1 tsp. baking powder
1 tsp. baking soda
1/2 tsp. salt
1-1/2 tbl. cinnamon
3 cups grated zucchini
1 cup chopped nuts
In a large bowl cream sugar and oil with electric mixer. Add eggs and mix well. Add water and vanilla and mix well. Place dry ingredients in a separate large bowl and blend with a whisk. Add creamed ingredients to dry ingredients and mix with whisk and spoon. Place 1 cup batter each into 6 well-greased 1-pint wide-mouth canning jars. Wipe batter from rim. Place jars on a baking sheet. Bake at 325 degrees for 55 to 60 minutes, or until a toothpick inserted in center comes out clean. Wipe rims. Place hot sterilized seals and rings on hot jars. Keep in refrigerator for prolonged storage.
PUMPKIN SPICE CAKE BAKED IN A JAR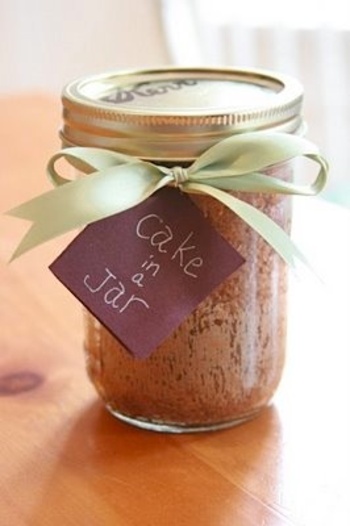 1 cup seedless raisins
1 cup walnuts
2 cups flour
2 tsp. baking soda
1/4 tsp. baking powder
1/2 tsp. salt
2 tsp. ground cloves
2 tsp. ground cinnamon
1 tsp. ground ginger
4 eggs
2 cups granulated sugar
1 cup salad oil
16 oz. can pumpkin
Preheat oven to 325-degrees.
Brush the inside of 8 (1 pint, straight-sided) Kerr or Ball Quilted Crystal (12 oz, straight-sided) canning jars with shortening (DO NOT use Pam); set aside. The 1 pint jars are shorter but bigger around than the decorative 12 oz jars, use either one. Sterilize the jars, lids & rings first.
Coarsely chop the raisins & walnuts; set aside.
Sift together the flour, baking soda, baking powder, salt,
cloves, cinnamon & ginger in a large bowl. Add raisins & walnuts; toss to lightly combine. In another large bowl, beat eggs at high speed until thick & yellow (2-3 minutes). Gradually beat in the sugar until thick & light. At low speed, beat in the oil & pumpkin; blend well. Gradually stir in the flour mixture until well blended.
Divide among the 8 canning jars (should be slightly less than 1/2 full). Wipe the sides of the jars off (inside/ outside) in case you slop or it'll burn. Place jars on a cookie sheet or they'll tip over.
Bake in preheated 325-degree oven for about 40 minutes or until a long pick inserted into the center (deep) of the cakes comes out clean. When the cakes test done, remove the jars, one-by-one & immediately place a lid & ring on & screw down tightly. Make sure to use HEAVY-DUTY hot pads because the jars are VERY hot. Place on the counter to cool. You'll hear a "plinking" sound when they have sealed. I nearly forgot, keep the lids & rings in the hot water until you're ready to use them; you want the gaskets hot so that the jars will seal. To sterilize the jars, lids & rings, boil them for 10 minutes.
CARAMEL CORN
2 c Light brown sugar
1/2 c Light corn syrup
1/2 lb Butter
1/4 t Cream of tartar
1 t Salt
1 t Baking soda
6 qt OR popcorn (2 batches)
In 2 1/2 qt saucepan combine brown sugar, corn syrup, butter, cream of
tartar, and salt. Bring to a boil, stirring, over med high heat.
Stirring constantly, boil rapidly to hard ball stage, 260F (about 5
mins). Remove from heat. Stir in baking soda quickly but thoroughly,
pour at once over popcorn in a lg roasting or baking pan. Stir gently
until all kernels are coated. Bake 200F for 1 hr, stirring 2-3 times
during baking. Turn out at once on wax paper, spread apart and allow
to cool completely. Break apart, store in a tightly covered container.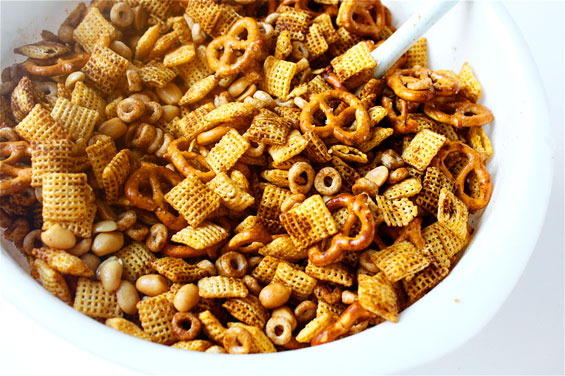 Chex Party Mix
1/4 cup (1/2 stick) butter, melted
1 1/4 teaspoons seasoned salt
4 1/2 teaspoons Worchestershire Sauce
8 cups Chex brand cereals (corn, rice, and/or wheat)
1 cup mixed nuts
1 cup butter pretzel braids
In small bowl, add seasoned salt and worcestershire sauce to melted butter. Mix well.
Pour chex cereal, mixed nuts and butter braids into large zip-lock plastic zipper bags.
Pour butter mixture over cereal mixture inside zip-lock zipper bag, seal top of bag securely.
Shake bag until all pieces are evenly coated.
Pour contents of bag into large microwave safe bowl. Microwave on high for 5 to 6 minutes, stirring every 2 minutes, spread on absorbent paper to cool.
Friendship Soup Mix in a Jar
1/2 cup dry split peas
1/3 cup beef bouillon granules
1/4 cup pearl barley
1/3 cup dry lentils
1/4 cup dried minced onion
2 teaspoons Italian seasoning
1/2 cup uncooked long grain rice
1/2 cup small macaroni
Additional Ingredients:
1 pound ground beef or turkey
3 quarts water
1 can diced tomatoes
In a 1 1/2 pint jar, layer the first eight ingredients in order listed. Seal tightly. Yields 1 batch.
To prepare soup, carefully remove macaroni from the top and set aside.
In a large saucepan, or Dutch oven, brown beef and drain. Add the water, tomatoes and soup mix. Bring to a boil. Reduce heat, cover and simmer
for 45 minutes. Add the reserved macaroni, cover and simmer for 15 to 20 minutes or until macaroni, peas, lentils and barley are tender.
Layered Dried Bean Soup Mix in a Jar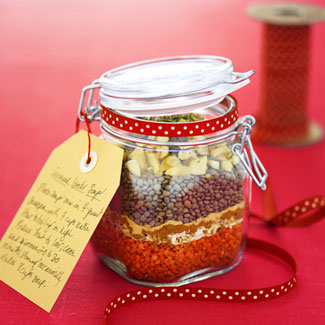 Dried Bean Mix:
1/2 cup kidney beans
1/2 cup split yellow peas
1/2 cup black beans
1/2 cup red lentils
1/2 cup small red beans
1/2 cup split green peas
Layer each type of bean in a 24 ounce clear gift jar.
Seasoning Mix:
1 tablespoon dried sweet pepper flakes
2 teaspoons chicken bouillon granules
2 teaspoons dried minced onion
1 1/2 teaspoons salt
1 teaspoon dried parsley flakes
1/2 teaspoon black pepper
1/2 teaspoon garlic powder
1/2 teaspoon celery seed
4 tablespoons brown sugar
Combine ingredients. Store in a resealable plastic bag. Attach to jar and give with recipe for Seasoned Bean Soup. Yields about 3 cups dried bean mix and 1/4 cup seasoning mix.
Attach these instructions to the jar:
Seasoned Bean Soup:
Dried Bean Mix
2 (14 1/2 ounce) cans tomatoes
Seasoning Mix
1 teaspoon Liquid Smoke ( optional )
Rinse beans and place in large Dutch oven or stock pot. Pour 4 cups boiling water over beans; cover and let soak overnight.
Drain beans and return to stock pot. Add 6 cups water, cover, and bring to a boil over high heat. Reduce heat to low and simmer 1 to 1/2 hours or until beans are almost tender.
Add tomatoes and seasoning mix. Stirring occasionally, cover and simmer 30 minutes. Uncover beans and continue to simmer about 1 hour longer or until beans are tender and soup thickens. Serve warm.
Yields about 10 cups soup.
Homemade Playdough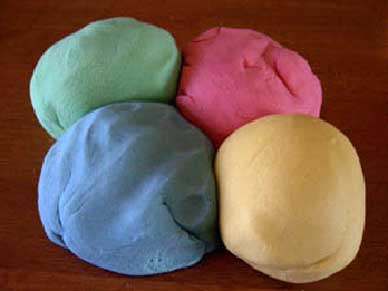 1 cup flour
1/2 cup salt
1 cup water
1 Tablespoon vegetable oil
2 teaspoons cream of tartar
Food coloring by drops
Directions:
Place contents in a pan and stir. Cook over low heat, stirring until a ball forms.
Add food coloring and mix thoroughly until desired color. Cool on foil. Store in covered container.