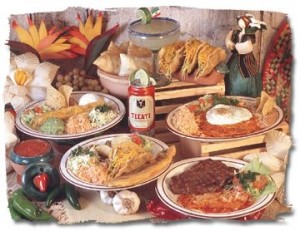 If you want to make a simple, wholesome, healthy, down to earth dinner tonight try these economical recipes.  Nearly every family can afford to make up a pot of beans and homemade tortillas.  Simple, but hearty, nutritious, and good!
FLOUR TORTILLAS
2 cups all-purpose flour
1-1/2 teaspoons baking powder
1 teaspoon salt
2 teaspoons vegetable oil,non-hydrogenated lard, or butter
3/4 cup lukewarm milk
Stir together the flour, baking powder, and salt. Add oil to milk and whisk briefly.Add the milk to the flour mixture, and with clean hands, work into a sticky dough.
On lightly floured surface, knead vigorously for about 2 minutes until the dough is no longer sticky.
Return dough to bowl, cover with a damp cloth 10 -20 minutes.
Divide dough into 8 balls of equal size, cover rest again for about 20 minutes.
One at a time, remove each piece of dough. Press it out into a 5-inch circle..you can use a tortilla press if you have one. Using a flour dusted rolling pin, roll out the tortilla from the center out until the tortilla measures a little less than 1/4 inch thick and is a 7 or 8 inch circle.
Preheat skillet or griddle and cook tortilla one at a time. When tortilla begins to blister, allow it to cook for 30 seconds, flip, and cook the other side the same way.
Remove tortilla, place it in on a clean paper towel and cover loosely with foil.
Tortillas freeze well. Wrap tightly in plastic. Keeps frozen for several weeks.
Homemade Pinto's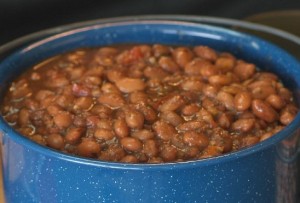 Once you make these beans from scratch, you will want to do it often.
They are so economical and delicious.  Opening up a can is good too sometimes, but treat yourself and your family to homemade whenever you can. There is nothing like a homemade pot of beans cooking.
Ingredients
* 1 pound dry pinto beans
* 1 (29 ounce) can reduced sodium chicken broth
* 1 large onion, chopped
* 1 fresh jalapeno pepper, chopped (or 1tsp canned)
* 2 cloves garlic, minced
* 1/2 cup green salsa or red
* 1 teaspoon cumin
* 1/2 teaspoon ground black pepper
* water, if needed
1. Place the pinto beans in a large pot, and pour in the chicken broth. Stir in onion, jalapeno, garlic, salsa, cumin, and pepper. Bring to a boil, reduce heat to medium-low, and continue cooking 2 hours, stirring often, until beans are tender. Add water as needed to keep the beans moist. You can blend these in a food processor or blender if you want creamy beans. You can also add a few Tbsp of oil or bacon grease if the mashed beans seem dry. Also don't forget about cilantro or green onions.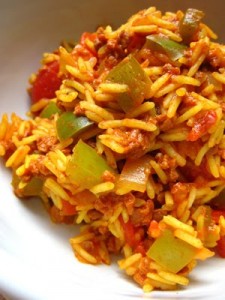 Spanish Rice
1/2 med. onion, chopped
1 c. long grain rice
1 tsp. salt, ground pepper
2 tbsp. shortening or oil
1/2 green pepper, chopped
1 can (8 oz.) tomato sauce
2 c. water
Melt oil or shortening in skillet. Add onion, green pepper, rice. Saute until rice starts to brown slightly. Add tomato sauce with water, salt, fresh ground pepper. Bring to a boil. Place lid on skillet and simmer until done.
Homemade Guacamole
There are so many yummy ways to prepare guacamole.  You can make it fancy and gourmet or you can make it simple. Sometimes  I just mash up a few avocados and add a few TBSP of Salsa and it's just delicious.  I guess the hardest part of making good guacamole is picking out good avocados. I've had such bad luck with this that now I'll ask the green grocer in the store to help me. If you'd like a recipe to follow here's an easy one.
Mash all of the following ingredients together and then season to taste.
* 6 ripe avocados, halved, pitted and peeled
* 1/4 cup lemon juice or lime…if you have them.
* 1 cup salsa
* 2 green onions, finely chopped (or any type onion)
* 1/4 teaspoon salt or salt-free seasoning blend
* 1/4 teaspoon garlic powder
* cilantro chopped (optional)