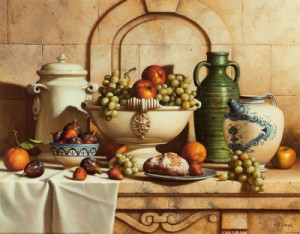 My boys are big soup eaters. We've enjoyed Italian Wedding soup from a can and it was good but not very economical and there was never enough left for seconds. I'm anxious to try this recipe out after Thanksgiving and I'm sure it will satisfy more than the canned version.
1 10-ounce) package frozen spinach
1 medium onion, chopped
4 stalks celery, chopped
3 medium carrots, chopped
1 cup orzo
1 clove garlic, minced
1/2 cup olive oil
1/2 tablespoon celery salt
6 cups chicken stock
Meatball Ingredients:
1 pound lean ground beef (or ground turkey)
1 medium onion, minced
1 tablespoon salt
1 tablespoon pepper
1 tablespoon fresh parsley, chopped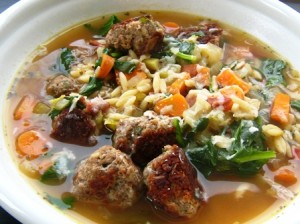 2 cloves garlic, minced
2 large eggs, beaten
1 cup milk
1/2 cup bread crumbs
1 tablespoon oil
1/2 cup grated Parmesan cheese
1. Rinse frozen spinach well, let drain until very dry, then chop.
2. In a large skillet over moderate heat, saute the chopped onion, celery, carrots, and minced clove of garlic in olive oil. Season with celery salt. Place vegetables and chicken stock in a soup kettle and simmer for at least 1 hour.
3. Prepare meatballs by combining the lean ground beef, minced onion, salt, pepper, parsley, 2 minced cloves garlic, eggs, milk, cheese, and bread crumbs. Shape into 1-inch meatballs and brown in a skillet containing one tablespoon of olive oil until they are cooked through. Drain meatballs on paper towels as they brown. Add meatballs to the soup and boil gently for 20 minutes longer. Serve warm.
Serves 8 to 10.