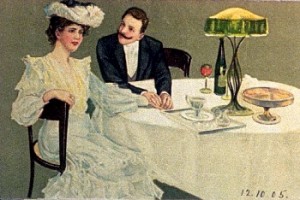 We eat a lot of chicken in our family. It seems like it is the most affordable item these days and there are dozens of ways to prepare this very economical meat.  Still though I have found myself staring at a plate of chicken breasts wondering………what shall I do with these?  I thought I'd post some super easy 4 ingredient recipes for chicken  that I found in The four Ingredient Cook Book.  I hope you will enjoy them!  ~Anne
Honey Baked Chicken Breasts
4 chicken breasts (skinless, boneless)
1/2 cup honey
1/2 cup Dijon mustard
1 cup seasoned bread crumbs
Combine honey and mustard. (set 2 tbsp of mixture aside) Dip chicken and roll in bread crumbs.  Bake for 30 min @ 400
Spoon honey mixture (that was set aside) over chicken breasts and continue to bake for 10-15 more min.
Tasty Chicken
4 chicken breasts (skinless and boneless)
1/3 c. tomato juice
1/2 teas. garlic powder
1/2 teas. oregano
Pound chicken  with mallet until uniform thickness.  Roll chicken breasts in tomato juice.  Place chicken on foil in baking dish and sprinkle with garlic and oregano mixture.  Bake @ 350 for 45 minutes.
Cranberry Chicken
6 chicken breasts
1 8oz bottle fat-free Catalina salad dressing
1 package dry onion soup mix
1  16oz can whole cranberry sauce
Combine dressing, onion soup,  and whole cranberry sauce.  Pour over chicken breasts.  Place in refrigerator and marinate overnight or at least for 2 hours.  Remove from marinade.  Bake 45 min. @ 350
Mandarin Chicken Breasts
4 boneless chicken breasts
1 envelope dry onion soup mix
1 can pineapple chunks-undrained
1 can mandarin orange- undrained
Brown chicken.  Combine soup mix, pineapple & oranges.  Pour over chicken and simmer for 30 min til done.
Oven Fried Chicken
6 chicken breasts
1 cup crushed corn flakes
1/4 c. buttermilk
1 teas. Creole seasoning
Combine Creole seasoning and corn flake crumbs.  Brush chicken with buttermilk and roll in crumb mixture.  Bake @ 375 for an hour.
Pecan Chicken
1/4 cup honey
1/4 cup Dijon mustard
4 chicken breasts (skinned, boned and halved)
1 cup pecans, finely ground
Combine honey and mustard.  Spread on both sides of chicken.  Dredge in chopped pecans.  Place in lightly greased baking dish.  Bake 350 for 1 hour.
Baked Chicken and Green Beans
4 chicken breasts
1 can cream of mushroom soup
1 can cut green beans, drained
1 package frozen rings
Place chicken in greased casserole and cover with soup.  Bake for 30 minutes.  Place green beans in casserole with chicken. Top with onion rings. Bake for 20 minutes or until chicken is tender and onion rings are crisp and brown.
Confetti Chicken
1 1/2 cups of chicken, cooked and cubed
2 cans seasoned tomatoes/onions
1 green pepper, chopped
2 cups rice cooked
In skillet, combine first three ingredients and season to taste.  Serve over rice.
Lemon Garlic Chicken
4 chicken breasts
2 cloves garlic minced
1/2 c. chicken broth
lemon juice from one lemon
saute garlic, add chicken and cook for 10 min browning both sides. Add broth and lemon juice.  Simmer 10-15 min covered. reduce heat.  Pour any remaining liquid over chicken.