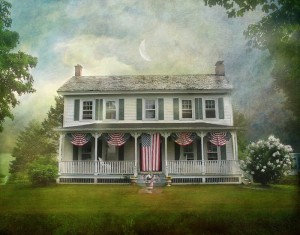 I came across this sweet story in an old Ideals magazine.  I've always loved cozy and comfortable front porches and long to have my own one day.  I hope you enjoy this article as much as I did. ~Anne
Used to be everybody had a porch, and everybody used it.  Today, few people do more than dash in from the rain under the protection of a small stoop or pause to ring the doorbell.
Young people need to revive the lost art of "porch sittin'."  Personally, I'm glad to see a bit of renewal for this old custom in the growing popularity of the old house plans with their large front porches.  Sometimes in my travels about the countryside, I see people sitting comfortably out on a porch, letting time roll under their feet, passing time or waiting for that occasional "drop-in" visitor.  When I see a scene like this, I can't help but wonder whatever happened to all the sitters…and the front porches that they sat upon.
As newer houses developed, the side porch became popular.  Following closely behind came the modern porch stoop, while decks and patios took over the rear of the house.  As communities became more thickly populated, as people felt they needed more privacy.  But back a generation or so ago, sitting on your porch was just a way of being neighborly.
When I was a child, we didn't have a very big porch, but I sat on it just the same.  As a matter of fact, I did a lot of things on that porch.  I discovered, all in due time, that porches were good for kissing on, crying on and "breaking up" on too.  Because we didn't have air-conditioning, we often entertained our company out on the porch or in the yard.  Across the road at my grandmother's was a huge, old two-story house with a front porch that covered its entire width.  That was were I spent some of my most memorable afternoons, sitting in a chair with my bare feet propped up against a porch column while listening to my aunts, keeping an eye on the was wasps' nest just above my head, and waiting for the ice cream to harden.
Porches were a means of escape for me, but somehow Mama always knew where to find me.  In the late afternoons after all my chores were done, I just liked to sit out there and gaze out at the stars or listen to the sounds of a gentle country night.  I was never scared out there on the porch.  Some nights I even got out of my bed and went out there to think when my mind was jumbled up with decisions and the disturbing pain of youth.
Memories of summer porches in my childhood are endless: my mama cutting corn off the cob, transferring tubs of water to the old wringer washing machine; my brothers pushing their toy trucks along the well-kept and painted board floor or cutting a watermelon for an afternoon snack.
We could learn a lot from our ancestors, who made a regular habit of sitting out on the porch.  Though hard-working people, they apparently also knew the value of relaxation.  They knew that balance was the key to good living.  After all, look at what they left behind for us as a gentle reminder- the rocking chair.
The rocking chair was a virtual haven and necessity for "porch sittin."   When you take a rocking chair out of your house and put it on the porch, you immediately intensify the pleasure of rocking by adding summer fragrances and the sounds of nature.  Even peeling onions or shelling beans becomes more enjoyable when you add a rocking chair to the porch.  And if you are lucky enough to own a swing, you're in for a glorious treat indeed.  There's nothing in the whole world quite like grasping the chains of a swing and trying to touch the sky with your toes…or in this case, the porch ceiling.  Add a broad-brimmed straw hat for fanning, and your "porch sittin'" becomes complete.
Even if you've only got a small porch, find the space for a chair or two, maybe even a swing.  Begin by sitting out there just by yourself, only you and the sounds of the late afternoon and the smells of the yard that surrounds you.  Take the time out there on your porch to look, listen, observe, smell and sense the special things in life.  Take it all in.  Be aware of the gentle reminders from the past that time is fleeting.  Try hard.  Try more than once.  You just might succeed in bringing back the tranquil way of life that reigned for more than a century, back before we all became lost in making a living and getting ahead.
"Porch sittin'" is a lesson in life passed along from our ancestors.  It seems they know more than we thought they did.
Gail L. Roberson
Ideals Magazine (Friendship)
Vol. 43, #5
Listen to Burl Ives sing on "On the Front Porch With You."  Be sure to shut off the website music first.  Enjoy!