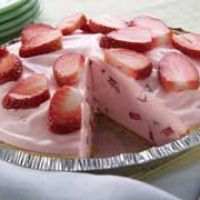 This recipe from The Four Ingredient Cookbook caught my attention. I'm always on the lookout for super easy recipes that I can whip up without too many ingredients.  This one sounded refreshing for a summertime dessert and not too much work for a tired homeschool mom.
1 Box strawberry Jello
2/3 cup boiling water and 2 cups ice cubes
1 carton Cool Whip
1 cup sliced strawberries
Dissolve Jello in boiling water.  Add 2 c. ice cubes.  After the ice is melted,  blend in Cool Whip until smooth.  Fold in strawberries.  Chill until mixture  is quite thick and  will mound.  Spoon into graham cracker crust.  Decorate with strawberry slices if desired.  Chill for at least 2 hours before serving.