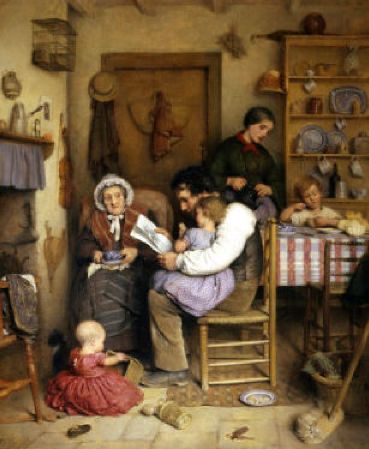 I am blessed to be able to attend a church where the word of God is not watered down. When I leave, I do not feel as though I've attended a self-improvement course or motivational meeting. In other words our preacher does not waste his time on "twaddle" but digs deeply into the word of God.  I enjoy a good old fashioned sermon that convicts,  but even if our pastor simply stood and read God's word to us that would be enough. It would be more than enough because God's word is powerful and has every thing we need for instruction in righteousness. God's word is LIVING…it is a lamp unto our feet and a light unto our path. I hope these verses will encourage, embolden and comfort you as you train and disciple your children.  ~Anne
Deuteronomy 6:5-9
You shall love the Lord your God with all your heart and with all your soul and with all your might. And these words that I command you today shall be on your heart. You shall teach them diligently to your children, and shall talk of them when you sit in your house, and when you walk by the way, and when you lie down, and when you rise. You shall bind them as a sign on your hand, and they shall be as frontlets between your eyes. You shall write them on the doorposts of your house and on your gates.
Ephesians 6:1-4
Children, obey your parents in the Lord, for this is right. "Honor your father and mother" (this is the first commandment with a promise), "that it may go well with you and that you may live long in the land." Fathers, do not provoke your children to anger, but bring them up in the discipline and instruction of the Lord.
Psalm 78:1-7
O my people, hear my teaching; listen to the words of my mouth. I will open my mouth in parables, I will utter hidden things, things from of old– what we have heard and known, what our fathers have told us. We will not hide them from their children; we will tell the next generation the praiseworthy deeds of the LORD, his power, and the wonders he has done. He decreed statutes for Jacob and established the law in Israel, which he commanded our forefathers to teach their children, so the next generation would know them, even the children yet to be born, and they in turn would tell their children. Then they would put their trust in God and would not forget his deeds but would keep his commands.  ~Anne
2 Timothy 3:14-17
But as for you, continue in what you have learned and have become convinced of, because you know those from whom you learned it, and how from infancy you have known the holy Scriptures, which are able to make you wise for salvation through faith in Christ Jesus. All Scripture is God-breathed and is useful for teaching, rebuking, correcting and training in righteousness, so that the man of God may be thoroughly equipped for every good work.
Colossians 3:15-17
Let the peace of Christ rule in your hearts, since as members of one body you were called to peace. And be thankful. Let the word of Christ dwell in you richly as you teach and admonish one another with all wisdom, and as you sing psalms, hymns and spiritual songs with gratitude in your hearts to God. And whatever you do, whether in word or deed, do it all in the name of the Lord Jesus, giving thanks to God the Father through him.
Jeremiah 10:2
Learn not the way of the heathen.
Isaiah 54:13
All your children shall be taught by the Lord, and great shall be the peace of your children.
Proverbs 13:20
He who walks with wise men will be wise, but the companion of fools will suffer harm.
Philippians 2:4
Each of you should look not only to your own interests, but also to the interests of others.
Joshua 24:15
But as for me and my house, we will serve the Lord.
Luke 6:40
"A student is not above his teacher, but everyone who is fully trained will be like his teacher."
Deuteronomy 4:10
"Gather me the people together, and I will make them hear my words, that they may learn to fear me all the days that they shall live upon the earth, and that they may teach their children."