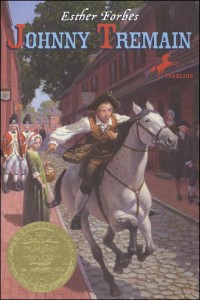 We read Johnny Tremain as a family read-aloud and I'm so glad we did.  My sister gave this book to her son to read on his own and he thought it was boring so he did not finish it.  If you read it as a family and talk about it together it won't be boring but exciting and character building.
If you are studying American History, especially the Revolutionary War period….or even if you are not,  Johnny Tremain is a must.  I would encourage you to read it and discuss the many themes throughout the story with your family.
Johnny Tremain takes place in Boston during the 1700's.  Johnny has no parents, is 14 years old,  and works as an apprentice for a silversmith. Johnny grows up in this story and learns about loyalty, humility, friendship, and the sin of pride.  He encounters evil and hypocrisy but also learns about courage, liberty,  and fighting against tyranny.
My boys and I gained a better understanding of life in Boston during the 1700's.  As we read through the pages of Johnny Tremain, we encountered John Hancock, Sam Adams, James Otis, Paul Revere, Joseph Warren, Josiah Quincy,  and the Son's of Liberty.  We gained a better understanding of  The Boston Tea Party, Paul Revere's ride and the Battles of Lexington and Concord. First and foremost though we learned about the bravery and character of our founding fathers.  We learned that brave men and women fought against Tyranny "So that a man can stand." Johnny Tremain is a keeper for us and will remain in our Library or be added to my "Grandmother Box." ~Anne