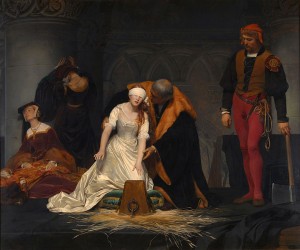 What a sobering thought…and so unbelievable these stories of history.  If we do not  understand and acknowledge our history we are destined to repeat it.  I'm amazed at the faith and courage of Lady Jane Grey.  This is the prayer she prayed in her prison cell before she was beheaded in 1554.
'I think that at the supper I neither receive flesh nor blood, but bread and wine; which bread when it is broken, and the wine when it is drunken, put me in remembrance how that for my sins the body of Christ was broken, and his blood shed on the cross. …I ground my faith upon God's word, and not upon the church… The faith of the church must be tried by God's word, and not God's word by the church; neither yet my faith.' Jane Grey to John Feckenham, 1554
O merciful god, be Thou unto me
A strong Tower of defence,
I humbly entreat Thee.
Give me grace to await thy leisure,
And patiently to bear
What Thou doest unto me;
Nothing doubting or mistrusting
Thy goodness towards me;
For Thou knowest what is good for me
Better than I do.
Therefore do with me in all things
What Thou wilt;
Only arm me, I beseech Thee,
With Thine armor,
That I may stand fast;
Above all things taking to me
The shield of faith;
Praying always that I may
Refer myself wholly to Thy will,
Abiding Thy pleasure, and comforting myself
In those troubles which it shall pleased Thee
To send me, seeing such troubles are
Profitable for me; and I am
Assuredly persuaded that all Thou doest
Cannot but be well; and unto Thee
Be all honor and glory. Amen.
I found this prayer on a lovely blog Lavender's Blue