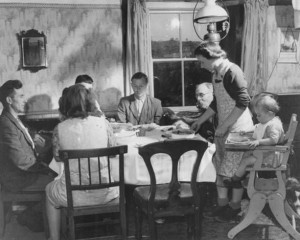 We did not eat Pot Roast all the time when I was a child, but we did have it now and then for our Sunday meal. When a Pot Roast was in the oven cooking, somehow the day seemed more special, like  Sunday was meant to be.  I'm not sure where this came from, probably from my Mom's Irish and English ancestors, but my Mom designated Sunday to be the day that an extra special meal was to be prepared. She would call it "Sunday Supper."
I've heard that Sunday Roast dates back to when the squire would treat his serfs to a meal of roast oxen every Sunday to reward them for the week's work. Who knows for sure why my mom had these traditions, she was not fancy or organized, but there were just things that she did,  that were not contrived or planned….she did what her Mother taught her I guess. I appreciate my mom so much and know that she wanted to please us all….food was one way that she showed her love.
I don't have my Mother's pot roast recipe, probably because she rarely used a recipe. I recall only having one recipe book that was shoved in a bottom drawer; it was hardly used unless we wanted to make chocolate chip cookies or something like that.  In honor of my dear mom and acknowledging the realities of our modern hectic world here's a super easy 4 ingredient Pot Roast recipe that I hope you'll enjoy with your family. ~Anne
1 4-6 lb chuck roast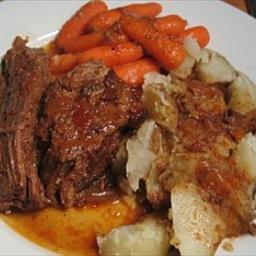 1 pkg dry onion soup mix
1 can cream of mushroom soup
4-6 medium potatoes, peeled and quartered
Place roast on a large sheet of heavy duty foil. Mix soups and cover roast with soup mixture. Add potatoes and bring foil up and over roast. Secure the edges tightly. Bake for about 4 hours.