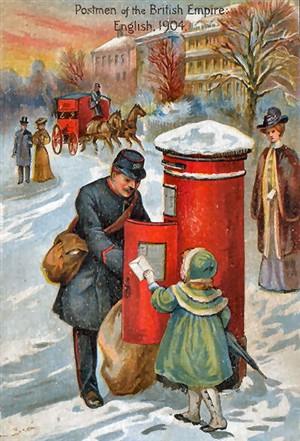 I received the nicest Christmas gift in the mail from a dear sister in the Lord whom I've never actually met.  We've been pen-friends for quite some time now and over the years she has sent me the most thoughtful packages that were most always so artful  and  home-spun.  Her homemade cards, and folksy gifts make me feel as though I've entered into her world for a while.  I'm allowed to leave my city life, make a cup of tea,  and escape for a short time as I pour over her homey letters and thoughtful gifts.
I admire this so much and hope to one day  make some of my gifts…or at least be more thoughtful about them.  She inspires me to jump off the shopping conveyor belt and leave the rat race of consumerism a bit.  Although I don't think there is anything wrong with buying gifts,  the idea of making them seems to be more thought-out and down-to-earth. Even though we've never met she seems to know my heart longs for a bit of country life.
One year she made me a lovely country apron (that I wear nearly everyday) .  She told me that as she makes the aprons she prays for that person as she sews.  Is there any better gift than one sent with prayers?  I'd like to share with you some of nice things she put in the "Bit of Country" box she sent me.
I opened the box to find a red basket filled with aromatic and homey gifts.  She included peppermint & spearmint tea from her garden, Herbal tea..also from her garden.  Homemade mini gingerbread biscotti cookies, a festive crochet dishcloth, a Christmas ornament, a pretty vintage tea cup and saucer, a Christmas dish towel, a journal, a tea ball, an inspiring paperback book and a handmade quilt sampler.  I think my favorite item was a calendar that she made with pictures she took herself from around her homestead. These photos along with the scent of her homemade tea really brought the country into my city home.  One thing I noticed about this little red basket was that it had something for each of my 5 senses.  She put in a CD of classical music for my listening pleasure.  Scented tea for aroma therapy.  Soft towels for touching.  Delicious cookies for tasting and pretty decorations for my eyes. Thank you dear pen-friend for your thoughtfulness.  You are a blessing and a delight to the Lord.  You are creative, charitable,  and kind.  You give freely even when gifts are not reciprocated.  God loves a joyful giver and he loves you so.    ~Anne