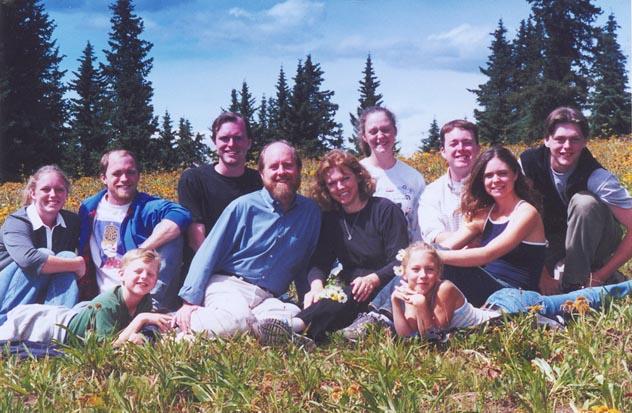 I'm not able to attend many homeschool conferences during the year but whenever I have this opportunity,  I often return home inspired , motivated,  and even more enthusiastic about homeschooling.
Yesterday I had the pleasure of  hearing David & Shirley Quine; nationally recognized speakers and authors of Cornerstone curriculum.  They have been in the ministry of helping homeschoolers disciple and mentor their children for over 25 years.  They have also raised up 9 of their own children and homeschooled them straight through.  They are not newbies for sure and when I talk about finding a mentor or "seasoned homeschooler" to pepper with questions these are the type of folks I would love to ask. These are the type of people that I wish I could personally call or have chat with at a front yard gate…since I cannot, I'm grateful that they have made it their ministry to help the homeschool community.
The Quine's have been homeschooling since 1980 and  I would imagine that they have learned a few things!!  Although they have so much knowledge and wisdom to share, I did not sense that that were puffed up about it; they were so humble and very focused on glorifying the Lord.  I was also impressed that they did not once promote their own products or ministry but promoted other authors like Francis and Edith Shaeffer. I guess after raising 9 children and living through all the up's and down's of family life, the Lord has had the opportunity to keep these folks humble and dependent upon the Him for everything.  They acknowledged their own inadequacy to homeschool their children (even with their college degrees)  apart from Christ.   It took the Lord to make them adequate.  The Quines were not flashy  or entertaining but were sincere and genuine so they kept my interest without any bells and whistles.  I wish I could have been sitting in their parlor with a cup of coffee taking in all that they have to share.   They emphasized the fact that they did not have all the answers but simply wanted to share what worked for their own family.  They stressed the idea that each family is so unique and therefore each parent must seek the Lord on how they should approach their homeschooling journey.
In a nut shell…….this is some of what I learned from the Quines yesterday. Please keep in mind that this list is from my personal notes with  my own  interpretation.  I did the best I could at understanding the meaning and spirit of the lecture. There are many gaps here I'm sure, but I hope to pass on a bit of the inspiration I received. 🙂
The Lord told Peter that if he loved him, He should "Feed my Sheep"  Because we love the Lord we can do the same.  We can feed our own sheep through homeschooling.  All that is required is love.  Love for the Lord….and for our children.
The BEST teacher for your children is YOU
When we homeschool our children we are not hiding them from the culture but preparing them to enter into the culture clothed with the armor of Christ, and prepared as a soldier to stand strong in the face of a lost and corrupt generation. Prepare your children for the battle so that they will not be taken captive.
Homeschooling can be described as " A Mom & Dad around town and around home discipling their children.
Homeschooling is not a class but a way of life
Our job as homeschooling parents is to fill our children's hearts and minds with wonder, beauty and truth.  Phil 4:8 (Finally, brethren, whatsoever things are true, whatsoever things are honest, whatsoever things are just, whatsoever things are pure, whatsoever things are lovely, whatsoever things are of good report; if there be any virtue, and if there be any praise, think on these things.)
Discipling our children means we are "Gently caring, guarding, guiding and protecting.  We are imparting the gospel and our lives to them.  We are giving our children the gift of what we love.
When do we homeschool?  24/7  All the time and everywhere.  Take your children with you.  Never go anywhere alone.
How do we homeschool?  We provide a feast of ideas allowing God to renew their minds based upon Phil 4:8  What is true, honorable, right, pure and lovely. Think on these things.
The Call to homeschool our children is too great….too high. But thankfully, God's way is to take an inadequate person and make him adequate through Christ!!! By God's Grace we are made adequate.
Our culture is not Christian anymore therefore we must design a Biblical World View Education in order to be able to withstand the pressures of this 21st century.
The paramount Questions are:
1.  What is God like?
2.  What is the nature of the universe?
3.  What is man like?
4.  Is there truth?
5.  What is the cause of evil and suffering?
6.  What happens after death
7.  Does life have meaning?
One way to fill your students hearts with beauty and truth….and teach them a biblical worldview is through reading, studying and discussing  literature together as a family.
In the early elementary years…even Jr. High years some literature…even that suggested by the classical homeschool reading lists is often inappropriate for young minds. It can cause confusion and double-mindedness because much of the literature; for example, The Illiad does not promote  a Biblical Worldview and will not fill your childs heart with beauty and truth. (Phil 4:8)
As your children mature into their highschool ages some of this literature may be introduced (But not consumed as a steady diet) in order to contrast the various worldviews. (Plato, Divine Comedy, Illiad, etc.)
A Biblical Worldview is all about being firmly rooted in Christ
Our children are a letter of Christ to the Culture
Sometimes we do not see the results of our discipleship right away.  Our children may not "look" the way we think they should in their teens, or twenties or thirties.  We need to do what the Lord commands us to do and then leave the results to God.
I was so blessed hearing such a kind and humble couple relate their homeschool journey to us this weekend.  Although I did not agree 100% with everything taught, I sure did appreciate so much of it and am fired up once again to train and disciple my children, and pass on a Christian worldview to them.  Blessings to you as you do the same!!  Anne