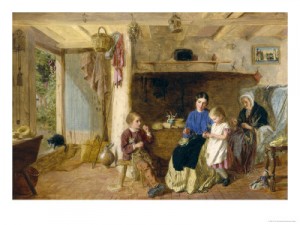 I can see that the whole process of writing a family mission statement is just as important as the product.  My husband and I have been talking about family life together!!  This is a good thing!!  To homeschool mom types like me,  this is a bit of heaven.  Having my honey talk about family goals  is a delight to my soul and it gives me great  hope.   Anyway, have a look at my revisions if you'd like.

Our family desires to honor and glorify our Lord Jesus and serve Him wholeheartedly.  We aim to know Him better, by gaining a thorough understanding of the Bible, and by seeking wisdom and instruction from Him every single day. We aspire to share His love with others through practicing hospitality, performing acts of service, and by sharing the gospel message with our neighbors and community.
We want to nurture and encourage a strong family bond and have a peaceful, warm, and relaxing home that can be a physical and emotional shelter for our family and loved ones. We will consistently work on creating happy memories and family traditions that will encourage family togetherness and strengthen our relationships. We will work together to keep our home tidy, organized and welcoming to guests.
We strive to have a home that is full of joy and free from strife and arguing, yet allowing for  honesty and communication.  We will be mindful of our biblical foundations and family rules while we are alone or while we have house guests. We will make it a habit to apologize and seek forgiveness when we have been unfair or unkind.  We will be quick to  forgive one another remembering how much we have been forgiven by our Lord Jesus.
We aim to live a life of integrity, being honest and choosing to do what is right even if it is not easy, comfortable, or popular. We understand that our identity is found in Christ and family rather than friends or peer groups. Remembering that "Bad company corrupts good morals,"  we will be careful about what friendships we encourage and will seek the Lord for wisdom in all of our relationships.
Knowing that our days on earth are numbered, we seek to use our time wisely performing worthy tasks that have eternal value rather than spending all of our free time on temporal pleasures. We must be willing to walk away from activities, entertainment, and relationships which are inconsistent with our family values and Biblical worldview.
Our homeschooling journey will emphasize a learning lifestyle that never ends.  We will continue to diligently read and study striving to be articulate, capable, industrious,  and balanced.  We will shun double mindedness, and confusion by using the Bible as our compass and guide.
We will devote time and energy to our Country, defending our Constitution and liberties, through being informed and active in the political process. We will try to keep current with the affairs of today in order to be an informed voter and prayer warrior.
As parents we will strive to have a loving and healthy marriage knowing that our children are watching and learning about God's design for marriage, forgiveness, sacrifice, resolving conflict, and faithfulness.
We will honor and respect those in authority over us, and show honor to parents and grandparents recognizing they are a gift from the Lord. We will love and cherish our children knowing that they are also a gift and a blessing from our Lord.
1. We obey God.
2. We love, honor and pray for one another.
3. We tell the truth.
4. We consider one another's interests ahead of our own.
5. We speak quietly and respectfully with one another.
6. We do not hurt one another with unkind words or deeds.
7. When someone needs correction, we correct him in love.
8. When someone is sorry, we forgive him.
9. When someone is sad, we comfort him.
10. When someone is happy, we rejoice with him.
11. When we have something nice to share, we share it.
12. When we have work to do, we do it without complaining.
13. We take good care of everything that God has given us.
14. We do not create unnecessary work for others.
15. When we open something, we close it.
16. When we take something out, we put it away.
17. When we turn something on, we turn it off.
18. When we make a mess, we clean it up.
19. When we do not know what to do, we ask.
20. When we go out, we act just as if we were in this house.
21. When we disobey or forget any of the 21 Rules of This House, we accept
the discipline and instruction of the Lord.
Deuteronomy 6:5-8
"And thou shalt love the Lord thy God with all thine heart, and with all thy soul, and with all thy might. And these words, which I command thee this day, shall be in thine heart: And thou shalt teach them diligently unto thy children, and shalt talk of them when thou sittest in thine house, and when thou walkest by the way, and when thou liest down, and when thou risest up."
Deuteronomy 11:18-20
"Therefore shall ye lay up these my words in your heart and in your soul, and bind them for a sign upon your hand, that they may be as frontlets between your eyes. And ye shall teach them your children, speaking of them when thou sittest in thine house, and when thou walkest by the way, when thou liest down, and when thou risest up. And thou shall write them upon the door posts of thine house, and upon thy gates."
Joshua 24:15
"Choose you this day whom ye will serve…but as for me and my house, we will serve the Lord."
Proverbs 13:1
"A wise son heareth his father's instruction."
Proverbs 16:16
"How much better is it to get wisdom than gold! And to get understanding rather to be chosen than silver!"
Proverbs 22:6
"Train up a child in the way he should go: and when he is old, he will not depart from it."
Proverbs 23:12
"Apply thine heart unto instruction, and thine ears to the words of knowledge."
Proverbs 24:3-4
"Through wisdom is an house builded; and by understanding it is established: and by knowledge…filled with all precious and pleasant riches."
Proverbs 29:15
"The rod and reproof give wisdom: but a child left to himself bringeth his mother to shame."
Isaiah 54:13
"And all thy children shall be taught of the Lord; and great shall be the peace of thy children."
Ephesians 6:1-4
"Children, obey your parents in the Lord: for this is right. Honour thy father and mother; (which is the first commandment with promise); that it may be well with thee, and thou mayest live long on the earth. And, ye fathers, provoke not your children to wrath: but bring them up in the nurture and admonition of the Lord."
Proverbs 29:18
Where there is no vision, the people perish.