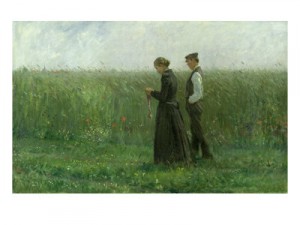 I don't think there is a "right" order to teach history. I guess that decision can be made using several influences… like what you've spent time studying in the past, your children's interest, maybe an area you feel passionate about, etc. I didn't really have a schedule… I worked through history the same way I scrapbook… chronologically. : ) But that isn't necessary. You really can study any time period that interests you, or that you feel is important to spend time on.
We also read lots of historical fiction or biography books along our history timeline, and watched movies (usually older ones), that went with the timeline or that were made from the books we read.
A few titles that we pulled in:
G. A. Henty books or books on tape for ancienct Egypt and Roman times, etc. (check out Henty titles)
Titles from Sonlight and Veritas Press catalog history sections that worked with our timeline.
Three Muskateers
Mutiny on the Bounty ( book and old Clark Gable movie)
Man in the Iron Mask
Gone with the Wind ( movie only)
Robin Hood ( old movie with Errol Flynn)
Westerns and War movies ( older movies – some John Wayne, etc. )
These are just a few ideas. We loved that we could make some popcorn, have a movie night, and it was part of school! : )
A few options come to mind for your family… you mentioned you wanted to teach your children together, so if that is still a goal, you will probably have to have a little family pow-wow, and agree on what to cover, when. If you go chronologically, you can do Diana Waring's Ancients for the next year or so, then spend some time on David Barton's American History, then do the Constitution course for a government credit. And when you do the Ancients, it is good time to once again reinforce creation vs. evolution, which brings in your worldview studies, from AIG, etc.
If you don't mind splitting the kids up, you could let your son watch David Barton's history dvds, and then watch the Institute on the Constitution dvds, and he would get a pretty good coverage of American History. You could also follow along in a good textbook, like a Bob Jones or Abeka American History (high school level), for some deeper reading on the different subjects addressed in the dvds. We did all of the above, as well as watched the American History class from Bob Jones HomeSat. HomeSat is gone now, but I think they sell the dvds for individual classes… not sure about that. We didn't do the tests, and all the chapter questions, etc. We just read from the text, which was interesting, wrote a few papers, and watched the dvd class, which was good too, then did David Barton dvds along the way, and the constitution dvd. It made for an interesting American History course, and I think it was quite thorough. There are many excellent history resources you could include.
While son is doing that, you could work through the Ancients with your daughter. Depending on their interests a few years down the road, they could switch materials. By that time, your younger student will be ready to study these subjects right along with them.
One thing we find is that if a student is allowed to study what interests them, they are much more motivated and seem to retain the info better, so I can't help but lean towards finding a way to let them follow their heart. If they weren't showing any particular passion for a time period, then it would pretty much be up to what works best for you ( and that still may be what determines the schedule, in the end!). : ) But it is rather nice that they at least show an interest in something, instead of not caring at all. That is a blessing.
For subjects like foreign lang., I would just start, and continue on for at least 2 years worth. It might take a little longer than one year to complete each level, but if you start in 9th grade, you have plenty of time to fit in both "Spanish 1 and 2" or whatever language you choose.
For a fine art study, you have choices as well. If your children study or play an instrument, then you already have that covered for the most part, with music. There are programs out there, to study the composers, and with Youtube, you can search for about any piece of music, and listen to it online. You could also incorporate a study of hymns … such rich doctrine.
But for art, you can bring in a program like Meet The Masters (level C, I think is for ages 10- adult?). This is an enjoyable art appreciation program that can be done together, and takes no artistic skill from the teaching parent. There are several packages, so you can study as much as you want to.
Home Ec. …. personally, I would follow the bents of my children, while bringing them along side mom or dad, to learn how to be a grown up. And if you track time spent on projects, you can easily give home ec. credit.
There is a program by homeschoolers called Keepers of the Faith (www.keepersofthefaith.com ) that is kind of like a Christian boy/girl scouts. It says it is for ages 7 – 16 or 17, I think. It is filled with gobs of ideas for learning skills in many areas of life, including creative, sporty, spiritual, service projects, academic, etc. I think it is a great tool, even if you don't do a formal club with other families. We have done it both ways… in a group (which my kids loved!), or just our family, which they still liked. The club version kept us both accountable to get it done, but we did fine alone as well. The areas of study cover a wide skill and ability range, so there is plenty for a high schooler to work on, at their level. The girl's version is Keepers of the Home, and the boy's version is Contenders of the Faith. You would probably want to get them each their own book, since it is sort of gender appropriate. Check out the website to see if any of the topics would interest your children. Your younger student can participate in the Keepers/Contenders projects too.
Think about what your and your husband's gifts are… any crafting skills or pastimes you want to pass on to your daughter? Sewing? Needlework? Cooking? Scrapbooking? Gardening? Bring her along side you in the home, to learn to run a household. My girls are still young ( 8 and 10), so they are a little limited in their skills. But when my son was in high school, my husband worked alot. Even so, my husband taught him the basics of car maintenance, lawn care, basic household fixing things, how to handle a gun ( they took a gun safety class together first). They would target practice at a shooting range or clay shoot on acreage in the country. They worked out together regularly ( first at home, then later at a gym). Hubbie taught son archery and we bought a big stuffed target, and they had a lot of fun shooting with bows and arrows. ( My 10 yo daughter enjoys this now!).
I had him sit with me to do the bills… teach him to look at a bill, figure out what they are charging you for, write a check (I would sign it), and get it in the mail. I taught him to do his own laundry, use an ATM card, pump gas for me, etc. For our girls, I have such a burden to help them embrace their calling as keepers of their homes, and to protect their heart from being lured into the work force ( like mine was). So, almost anything we study, I try to bring it back to how God can use that information or skill in their lives, as wives and homeschool mommies someday! I am purposefully trying to foster in them skills and interests that I think could be useful to a stay-at-home-mom, either as a ministry, or as a source of income from home, or as a resource to homeschool families someday… piano study ( piano teacher in her home someday?), sewing (seamstress business from home?), sign language (interpreter, homeschool classes?). That is just personally where my head is at. : )
Anyway, just looking at the everyday responsibilities of life that we tackle each day, and helping them become confident in those skills, will allow for plenty of home ec. credit hours.
I used and loved a record keeping book from NARHS, (North Atlantic Regional High School) called a Daily Log. For high school, my son basically just tracked his day. And I used a regular calendar to organize our lives, which also was useful for accounting for our time. This made sure we were accounting for all the activities that "count" as school, even though they are out of the box. I found that most of our time was spent in a worthy manner, so I wanted him (and me!) to get credit for what we had accomplished. If you prepare a transcript for college, this log will be very helpful. If you end up not needing transcripts for college admissions, it is still a great portfolio of the high school years.
You can order it online or on the phone. Their website is www.narhs.org/taxonomy/term/6 . NARHS is a distance learning option to receive an accredited high school diploma. You keep all the records, by their standards, and they award a diploma. Personally, I didn't want the accred. diploma program they offer. But I found most of their record keeping books to be so helpful. Again, the Daily Log was a great tool, and they have other forms and books as well. There are a lot of handy planners out there. I didn't use the Daily Log for my lesson planning, but rather to track what we actually did.
Hope this is helpful!
Blessings,
~ Lynn : )