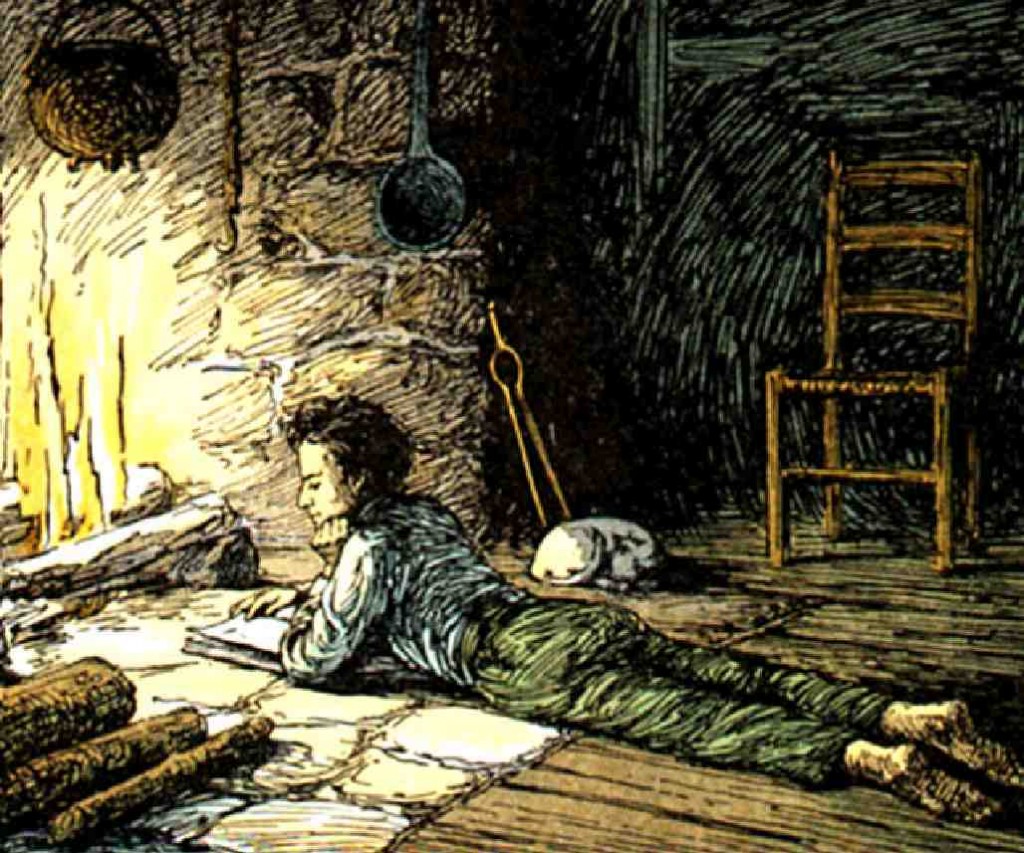 Years ago at our local homeschooling convention I picked up a copy of the New England Primer of 1777. I've kept this copy in my library even though we do not use it as much now that my boys are older. We probably should re-visit this practical and wholesome book again.
In the early colonial period, one of the main reasons folks learned to read was so that they could read the Bible and become a Christian. Parents taught their children to read and learned to read themselves so that they could learn about the ways of our Lord and come to a saving knowledge of Jesus Christ. This was their motivation. In 1647, the "Old Deluder Act" was passed in Massachusetts and it required every town with 50 or more residents to hire a teacher and begin a school. This was really our first step towards compulsory education. The chief goal of the "Old Deluder Act" was to enable students to gain a knowledge of the Holy Scriptures.
When you read through the New England Primer you will discover phonics lessons, spelling rules, and reading lessons. You will also be taught all of these things from a Christian perspective. The Lord's prayer, The Shorter Catechism, the Apostles Creed, prayers and hymns by Isaac Watts are also included in the Primer.
A Wise son maketh a glad father, but a foolish son is the heaviness of his mother.
Better is a little with the fear of the Lord, than great treasure & trouble therewith.
Come unto Christ all ye that labor and are heavy laden and he will give you rest.
Do not the abominable thing which I hate saith the Lord.
Except a man be born again, he cannot see the kingdom of God.
Foolishness is bound up in the heart of a child, but the rod of correction shall drive it far from him.
GODLINESS is profitable unto all things, having the promise of the life that now is, and that which is to come.
HOLINESS becomes GOD's house for ever.                                          

IT is good for me to draw near unto GOD.
Jesus is the same yesterday, today and forever.
KEEP thy heart with all diligence, for out of it are the issues of life.
LIARS shall have their part in the lake which burns with fire and brimstone.
MANY are the afflictions of the righteous, but the LORD delivereth them out of them all.
NOW is the accepted time, now is the day of salvation.
OUT of the abundance of the heart the mouth speaketh.
PRAY to thy Father which is in secret; and thy Father which sees in secret shall reward thee openly.
QUIT you like men, be strong, stand fast in the faith.
REMEMBER thy Creator in the days of thy youth.
See a man wise in his own conceit.  There is more hope of a fool than of him.
TRUST in God at all times, ye people, pour out your hearts before him.
UPON the wicked, God shall rain an horrible tempest.
Value wisdom over gold.
Woe to the wicked, it shall be ill with him, for the reward of his hands shall be given him.
EXHORT one another daily while it is called to day, lest any of you be hardened thro' the deceitfulness of sin.
YOUNG men ye have overcome the wicked one.                      

Zeal hath consumed me, because thy enemies have forgotten the word of God.