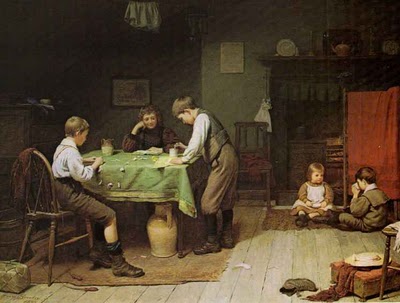 When my dear niece was thinking about homeschooling, she asked if she could observe a typical homeschool day in our house. I tried to explain that homeschooling is a lifestyle of living and learning together, and therefore each day looks different.  We have a routine…sort of…. but as we all know,  life often sabotages even the best schedules and planning.  We try to go with the flow…trusting that the Lord has his own plans for our lives.  For example, if we have any negative attitudes (including mine) or complaining we may have to allow extra time for a good talk, prayer, or even refreshment.  If we decide to have a play date or friends over for lunch (because homeschoolers never have socialization ;)) we need to be flexible about our schedule and allow time for cleaning and preparing for guests.  It all depends.  Taking all that into consideration, we actually do get to our book learning.
Our mornings begin with cooking….I call this "Life-Skills."   My boys are little chefs now and are always asking to cook, so I allow them to make themselves comfortable in the kitchen.  Most days they prepare their own breakfasts and sometimes mine as well.  They prepare scrambled eggs and toast, cheese omeletts, English Muffins w/ sun or peanut butter, Tortillas with eggs & cheese or  bowl of cold cereal or frozen blueberries & milk.  I'm so delighted with their independence and know in my heart that these life-skill lessons are contributing to the fact that one day I will be out of a job!!!  That's okay though….I would not want them to be dependent on me just so I felt needed.  Besides….I'm often achy in the morning and I really appreciate that they can take care of themselves. 😉
After breakfast, we begin Math. I pour myself some hot coffee and prepare to help them if they need it.   We are using a math program called Teaching Textbooks (which I really like)  so on many days my boys are quite independent because of this program.  Lately though,  my youngest son wants me to sit with him while he works.  I like this because it keeps me  current with what he is  doing,  and also allows for some one on one time with him.  Sometimes he'll  even remark with a smile,  "Math was fun today, Mom. "
In the past we've had many difficult math days….frustration, tears, praying…asking God for help…and for patience.  Now though we have this handy dandy program that has an explanation for every single problem!!  Instead of tears, we simply go to the computer to watch how the problem is done…sometimes we watch it more than once.  We do not move on until we understand the new concept. Teaching Textbooks is not perfect…but it is a Godsend to me.
After Math, they do 10 minutes of typing practice and about 20-30 minutes of piano and their independent reading.  We also have a music theory review on the computer and they go over this on some days.  I'll give them a 10 minute warning and make sure they picked up their bedroom before we begin our "couch time."   This is our time when we practice our Bible memory, talk, pray, and then read together.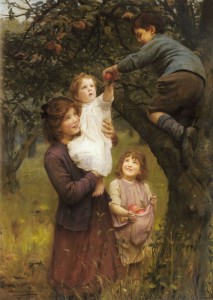 We are usually done with all morning activities between 12 and 1.  Sometimes I continue reading to them while they eat their lunch, or we eat together and watch "Drive thru History, America's Heritage Series (David Barton) or other educational program.
We have free time for a few hours and if we do not get outside the boys ride on the recumbent bike for a half-hour or so.  Before Dad gets home we will work on extra projects (our geography maps etc) , our writing (Andrew Pudewa) and chores.
Several times a week Grandma comes over and does penmanship/copywork lessons.  They love having grandma sit with them and I will use this time to run errands, work on my website, do laundry etc.
Before you know it Dad is on his way home and we prepare dinner.  My oldest especially likes to help and so I'll often allow him to chop veggies, fry up ground beef or whatever.
That's pretty much it.  See how easy homeschooling is?  You can do it!!!  🙂 I have been quite deliberate this year about keeping things relaxed knowing that our  highschool years will be more challenging and require more diligence.  In the past we've had piano lessons, worldview classes, and other classes given by homeschool families,  but this year we decided to enjoy family time and work on making happy family memories together. I'm not stressed out this year always rushing around.  Making an effort to be home more and relaxing expectations a bit is quite freeing and contributes to a happy family life and better attitudes all around.
One day a week we co-op with another family who comes for a writing class.  This is a highlight for my boys who love to socialize with a like-minded family.  We also use this time for the children to perform new piano pieces or recite memory work.  The children have plenty of time to socialize and we always enjoy eating lunch together.  I highly recommend finding a like minded family to meet and study with each week.
Well, I hope you enjoyed reading about our typical day.  I'm still plagued with doubts on this journey and often question whether I'm doing enough.  I have no doubt that there will be some areas that we did not cover during our homeschool years.  I'm sure there will be some missing pieces when we are done……but I also know that attending public school leaves even more missing pieces in your life.  There is a lot to be said for a happy family…living and learning together in a cozy home.  There is joy when a Dad comes home to smiling faces and children who adore him and a grateful wife……..even if the house is a bit on the messy side!  Homeschooling is worth it all!   Blessings,  Anne