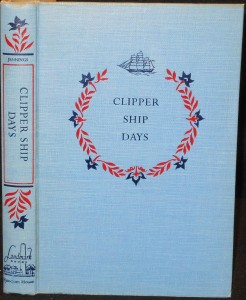 While visiting the discarded books for sale at our local library,  my dear husband often ferrets out the best old books for bedtime reading. He is currently reading a historical story about the history of clipper ships called,  Clipper Ship Days-the Golden Age of American Sailing Ships. This book  by John Jennings was written in 1952.  These publications written in the 50's and before, although not necessarily "Christian," are filled with old fashioned goodness and patriotism and this makes for very peaceful dreams. 🙂   The following passage is the  forward called….A Word to Begin With

America has come to be one of the greatest nations on earth for many reasons. Above all our people are free, and they have the strength and energy and independence that freedom gives. Americans name their own presidents and elect their own congress; and the men and women whom they choose must govern as the American people demand or be discharged-for that is really what being voted out of office means.
But quite apart from our democratic system, there are many other things that have helped our country to grow and become great. For one thing, America is a vast land, with plenty of room for all men who would share in its benefits, so long as they will also share in the duties and obligations that being an American demands. That makes America great in itself. But there are also the seven seas to sail, and all the rest of the world around us, waiting to be shown that Americans are no mere upstarts among the family of nations. Yankee ingenuity and pluck and daring; the know-how and ability of American to learn a lesson from their own experiences as well as the experiences of others, have helped to prove our strength and make America supreme.