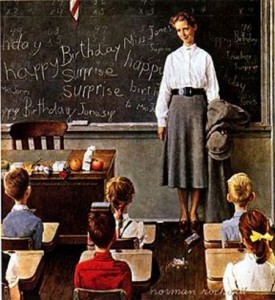 The following quotes from famous educator and author John Taylor Gatto are good food for thought and something to discuss with other folks who are interested in education. Homeschooling, although imperfect, is just the opposite of public schooling because it focuses on family life and provides many opportunities to pass one's values on.  Homeschooling prepares our kiddos for real life.
"I've come to believe that genius is an exceedingly common human quality, probably natural to most of us… I began to wonder, reluctantly, whether it was possible that being in school itself was what was dumbing them down. Was it possible I had been hired not to enlarge children's power, but to diminish it? That seemed crazy on the face of it, but slowly I began to realize that the bells and the confinement, the crazy sequences, the age-segregation, the lack of privacy, the constant surveillance, and all the rest of national curriculum of schooling were designed exactly as if someone had set out to *prevent* children from learning how to think and act, to coax them into addiction and dependent behavior."
"It's absurd and anti-life to be part of a system that compels you to sit in confinement with people of exactly the same age and social class. That system effectively cuts you off from the immense diversity of life and the synergy of variety; indeed it cuts you off from your own past and future, sealing you in a continuous present much the same way television does…" Read more...